How social media can make David a formidable challenge to Goliath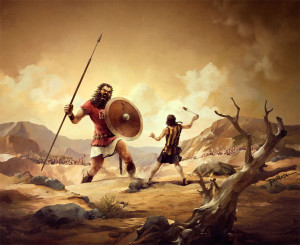 3PL provider Coyote Logistics is one of the fastest growing companies in North America. The company's incredible growth (five-year growth: 3,585 percent) and tenacious spirit has not gone unnoticed. Forbes included Coyote in its list of Most Promising American Companies; Supply & Demand Chain Executive listed Jeff Silver, Coyote CEO, as one of their "Pros to Know;" and the company was listed as one of the best places to work by the Chicago Tribune.
There are undoubtedly many factors that have contributed to the success of the company.  Coyote's approach to social media is likely one of the company's keys to success.
Coyote is a customer-centric company that is creative and pushes boundaries in its effort to "offer the best 3PL experience ever."  Go to Coyote's webpage and you'll see that it oozes the company's culture and mission.  Likewise, the company's LinkedIn, Twitter, Facebook, and YouTube channel exemplify the company's commitment to their culture, customers, and mission.
Coyote has leveraged social media.  The company uses social media to engage with customers, to provide information about the company and the industry, and to find great talent.  Coyote's approach has personalized the company – making it stand out from competitors.  The level of engagement has also helped to create relationships – relationships that are essential to growth, especially in the B2B environment.
According to Ron Faris, co-founder and CEO of a new Virgin start-up company, "Social conversation is the only way small brands can get an edge on the big boys."  Why?  Faris points to the three ingredients of brand affinity: rational, cultural, and emotional.  According to Faris, the rational space is where the big boys play, and the he cultural and emotional space is where there is opportunity for the small brands.  More specifically, when a company focuses on the cultural and emotional it is able to capture a customer's interest not because of what is on sale, but by being bold and engaging.
Faris writes: "Goliath will always have the luxury of being omni-present in the consumer's field of vision. But Goliath is not nimble. And to truly win a crowd, you need to pivot to tell the right stories they want to hear at the right time."
If you'd like to learn more about social media and what it can do for your business, get in touch.  Fronetics Strategic Advisors works with companies in the logistics and supply chain industries to acquire new customers and grow their businesses by penetrating new markets and deepening their presence and impact in existing markets.

A version of this article also appeared on DC Velocity.