Infographic: 10 Companies that Are Getting Instagram for B2B Marketing Right
Need some Instagram for B2B marketing inspiration? These 10 brands are getting it right.
---
Highlights
Instagram is a great opportunity for B2B businesses.
Avoiding blatant sales or advertising pushes is key.
Successful accounts engage users with interesting visuals and/or provide them with value through informative content.
---
Instagramnow boasts over 1 billion monthly active users, making it one of the most popular social media platforms out there. It's a tremendous opportunity for businesses. In fact, recent research has shownthat 66% of brands now use Instagram.
But many B2B marketers are still struggling to find their footing on this highly visual platform. Since we could all use a little inspiration now and then, here are 10 brands that are crushing Instagram for B2B marketing — and what we like about their presence.
10 brands that are nailing Instagram for B2B marketing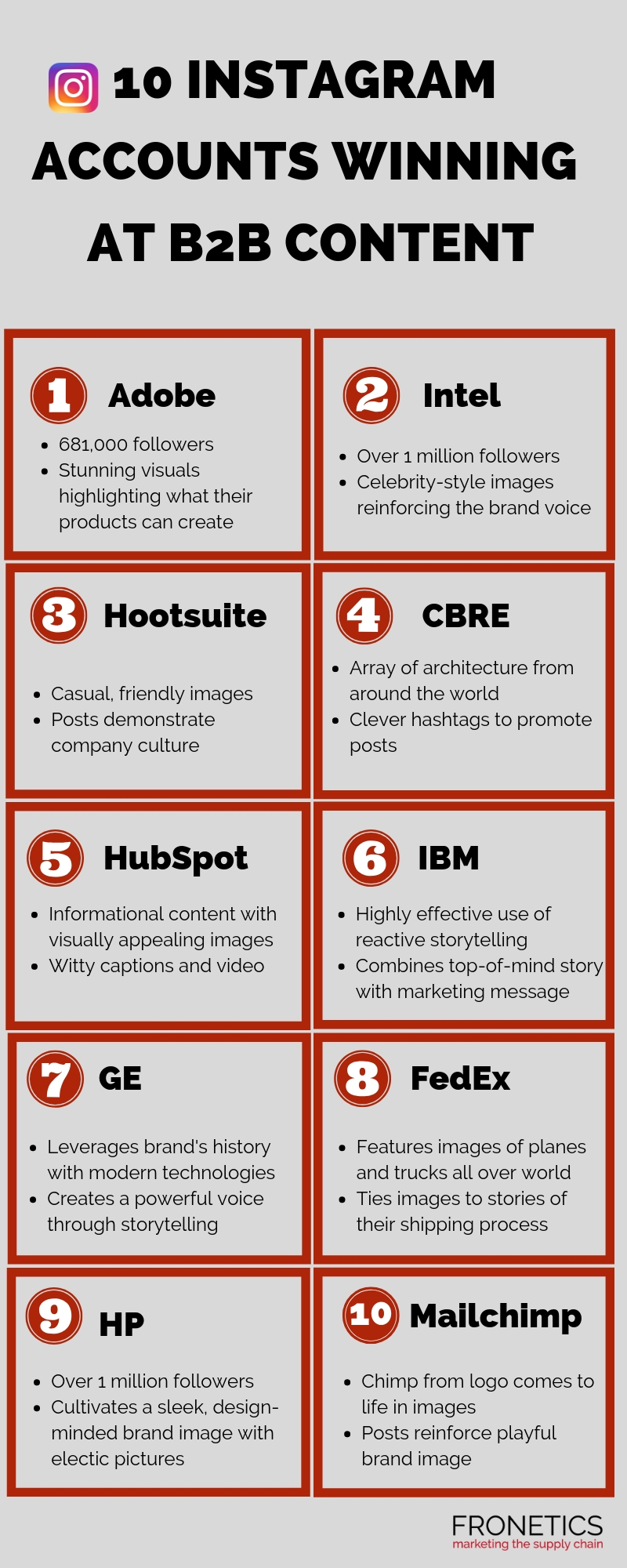 1)      Adobe
With 681k followers, Adobe (@adobe) is a fortunate brand when it comes to Instagram in that its product naturally lends itself to the visual medium. Its account boasts some truly stunning visuals, highlighting what Adobe products can create.
2)      Intel
The tech giant Intel (@intel) cultivates a celebrity-style image, giving its over-a-million followers an inside glimpse into big events the brand plays a role in, like the X Games, Grammys, and glitzy tech conferences. Each of the carefully curated images reinforces the brand's voice, and captions do a great job of detailing exactly what the brand does in the tech space.
3)      Hootsuite
Social media management dashboard Hootsuite (@hootsuite) does a fantastic job of showing brands their social media know-how, right in its Instagram profile. The company cultivates a casual, friendly image and posts content that demonstrates company culture. From team building photos to office dogs, Hootsuite makes followers feel like they're getting to know the brand.
4)      CBRE
Global commercial real estate firm CBRE (@cbre) is a phenomenal example of finding beauty within the context of its operations. The brand's Instagram feed features a stunning array of architecture from around the world, with clever use of hashtags.
5)      HubSpot
Here's a company getting content Instagram for B2B marketing right. HubSpot (@hubspot) consistently provides value to followers, posting informational content. Rather than letting it get boring, the brand keeps content visually appealing and makes clever use of captioning and video.
6)      IBM
Tech juggernaut IBM (@ibm) has made highly effective use of reactive storytelling on Instagram. This method of storytelling combines a top-of-mind story or idea with a compelling marketing message. IBM uses it during popular or inspiring events, demonstrating how it's making use of the brand's technology.
7)      General Electric
It's a household name brand, and it's over a century old. General Electric's (@generalelectric) Instagram presences does a great job of leveraging the brand's history, highlighting its involvement with important developments in defense, aviation, and technology. It's a great example of creating a powerful voice from a brand through storytelling and tapping into the audience's nostalgia.
8)      FedEx
FedEx (@fedex) is a prime example of a B2B brand that makes the absolute most of what it does to create a compelling story for its Instagram content. The account features photos of airplanes and trucks all over the world, telling the story of how the carrier cares for and ships products in its care.
9)      HP
With over a million followers HP (@hp) cultivates a sleek, design-minded brand image on Instagram. It capitalizes on subtlety and style, with eclectic images that never feel overtly promotional but that highlight the brand's innovation.
10)  Mailchimp
Email marketing company Mailchimp (@mailchip) truly gets the most out of its whimsical logo. Its Instagram content has given the playful chimp logo life and transformed him into a personality and voice for the brand. The image is quirky and fun, and Mailchimp's Instagram presence reinforces and capitalizes on that.
What companies do you think are doing Instagram for B2B marketing right?
Related posts: