The Six Marketing Metrics That Your Boss Actually Cares About
The profile of marketing has definitely been raised lately. With a full 63% of businesses planning to increase their marketing budgets this year, its clear business leaders are looking directly to their marketing departments to drive growth. Along with expanding budgets and more pressure to produce results, marketing metrics are being more heavily scrutinized by executives; marketing departments are being asked to prove the worth of the increased investment in their marketing efforts. And with an enormous amount of potential data to track, marketing can seem more like big data. The good news is it doesn't have to. Successfully presenting the value of your marketing efforts means showing your boss the metrics that will resonate and prove that you're moving the needle where it really counts.
Do you know which metrics actually matter to your boss? Rather than talking about per-post Facebook engagement and other "soft" metrics, can you tell your boss, for example, if your company is spending more money this year to acquire new customers than it did last year? Let's take a look at how you can calculate your company's Customer Acquisition Cost (CAC) and why your boss actually does care about it.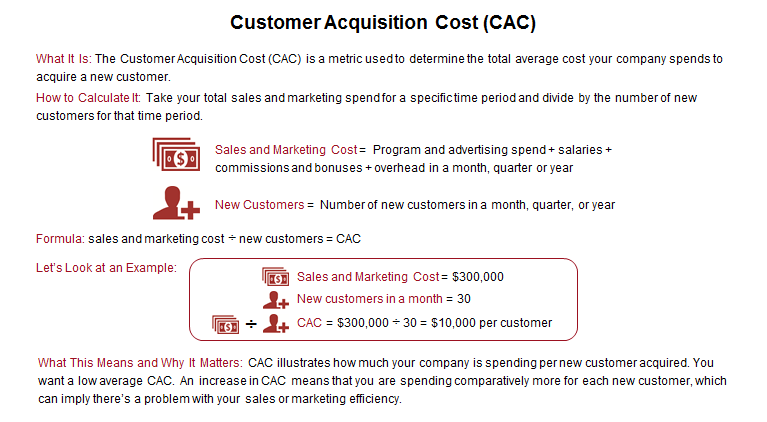 Reporting on measurements that link your marketing efforts to the company's bottom line, such as Customer Acquisition Cost (CAC), will put your marketing team in a much better position to make the case for executive support of current and future budgets and strategies. For more metrics that matter, download our guide to The Six Marketing Metrics That Your Boss Actually Cares About. Our 10-page guide lays out the six marketing metrics that will prove the value of your marketing efforts, along with formulas and examples to help you calculate your own metrics and explanations of why your boss finds these metrics so important.