What Are Twitter Stickers, And Should My Business Use Them?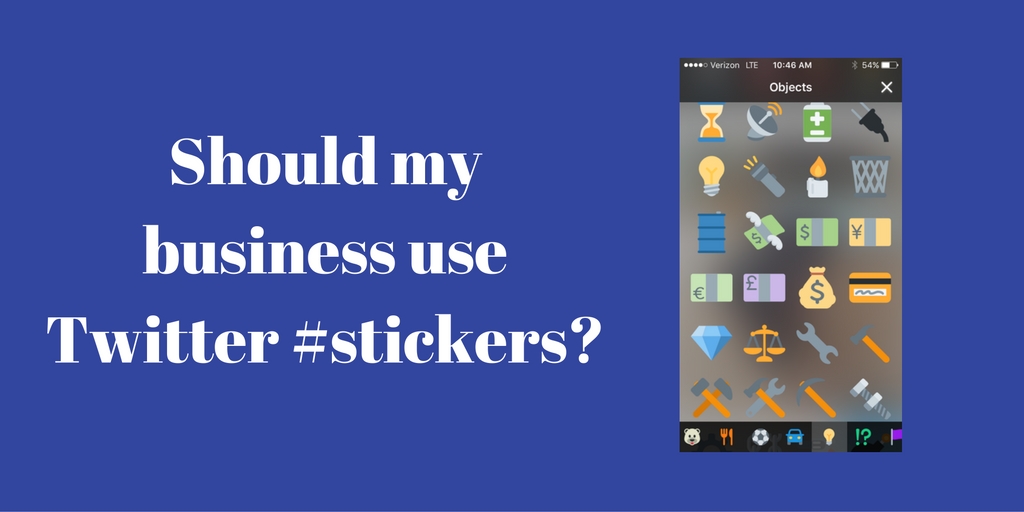 Add stickers to your photos on Twitter to join in on real-time conversations about trending topics and to grow your audience.
Twitter announced at the end of June that it would be rolling out a new feature called #stickers. Twitter stickers are a visual twist on a hashtag, meaning you can add them to the photos you tweet and be connected to the community using the same sticker. Users can click a sticker to see other tweets tagged with the same image.
You can use multiple stickers (up to 25), place them anywhere on your photo, and resize and rotate them. There are hundreds to choose from, organized by categories, including:
Accessories (e.g., hats, sunglasses)

Smilies and people

Animals and nature

Food and drink

Activity (e.g., sports equipment, instruments)

Travel and places

Objects

Symbols

Flags
Why would my business use Twitter stickers?
Twitter suggests, "Use [stickers] to share what you're doing or how you're feeling, to show support for a cause, or to just add some flair." While their primary intention may be fun, Twitter stickers should pique businesses' interest because they are searchable. And anytime something is searchable, that means it is another opportunity for potential customers to find you.
By using a sticker on one of your tweets, you increase your audience for that tweet in the same way that you do when using a hashtag. People who search by the stickers you use will see your tweets.
Imagine the potential! Medals or sports icons during the Olympics, weather stickers during extreme elements: millions of people will be using and searching these images. Find clever ways to relate Twitter stickers to your photo content, and you'll strike a chord with an enormous audience.
Also, don't discount the value of showing some of your brand personality through social media. Having fun with Twitter stickers can give your followers an idea of what your company is all about, show the human face behind the company name, and help them connect with you.
How do I add a sticker?
Stickers are now available to all iOS and Android users. Here's how to add a sticker to your photo:
1) Tap the Tweet compose icon.
2) Tap the camera icon to take a photo or to select one from your camera roll.
3) Tap the sticker icon (a smiley face) on the bottom right-hand corner of the selected photo to launch a library of stickers. Say I wanted to tweet this photo of my dog: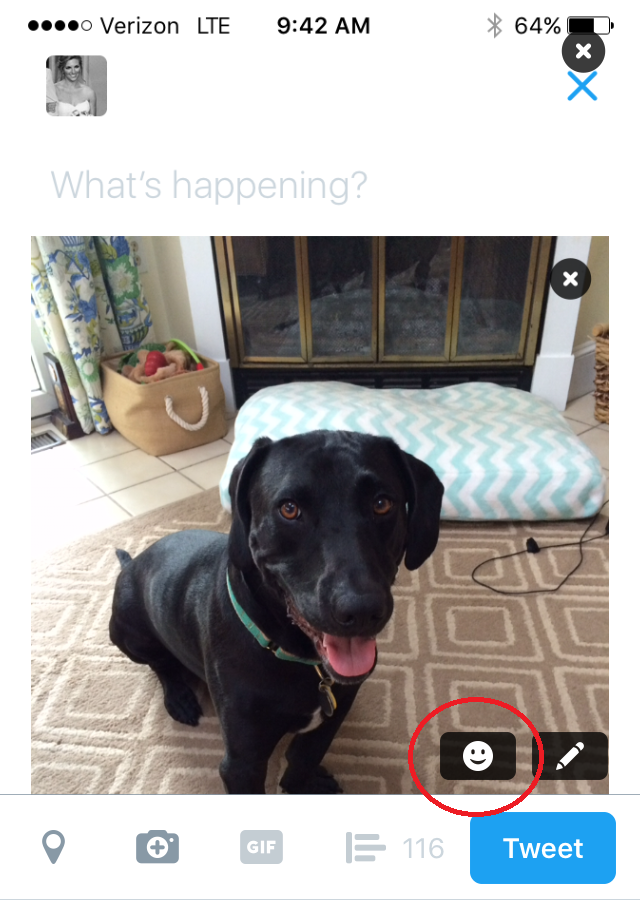 4) Tap your selected sticker(s). Once placed on your photo, hold and drag the sticker with your finger to move to your desired position.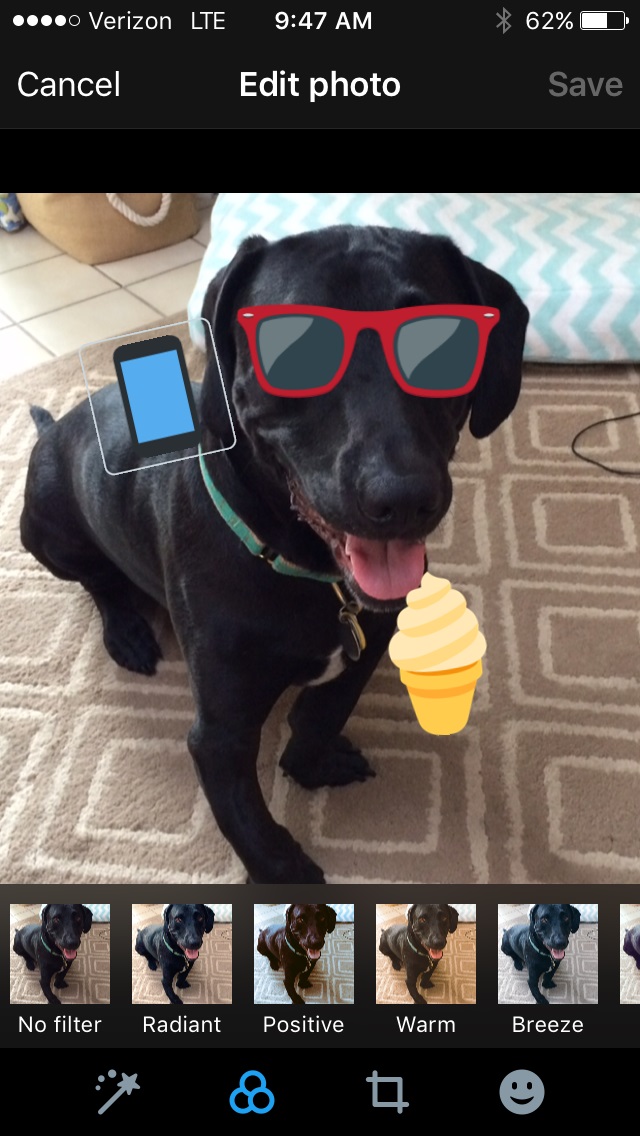 5) To tilt, enlarge, or shrink a sticker: Place two fingers on either side of the sticker and turn the sticker clockwise or counterclockwise to rotate, or slide your fingers apart or together to resize.
6) If you'd like to remove a sticker from a photo, press and hold on the sticker, then drag it to the bottom of your screen until the trash can icon appears.
Here is what the finished product looks like: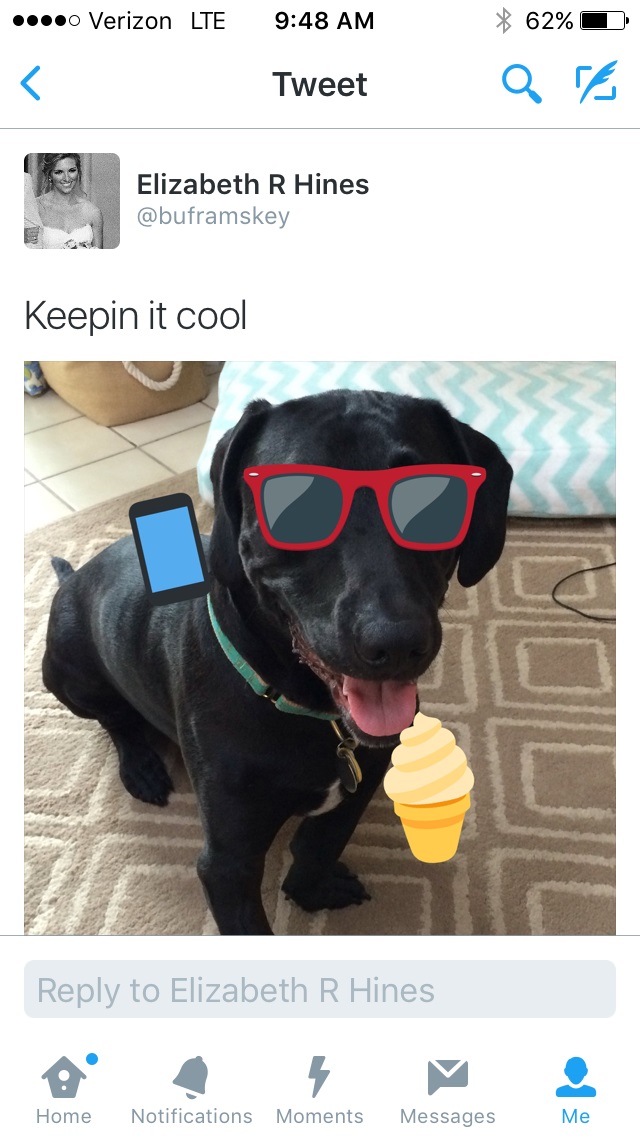 Related posts: