Why your sales pitch is bad for business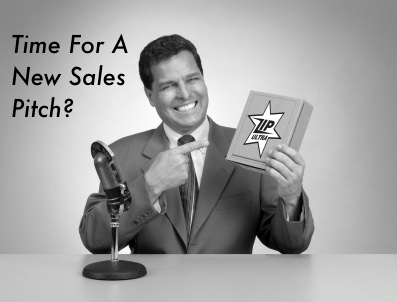 The temptation is obvious: You want to use your business blog to proclaim the virtues of your excellent products. You throw around words like "unique," "outstanding," "robust," and "industry-leading."
Perhaps you even add a blinking "Buy Now!" button at the end, convinced your reader simply can't resist hitting it.
There is only one problem: Your sales pitch made your prospective customer tune out long before they reached the last paragraph.
Imagine the following scenario: You enter a car dealership and are greeted by an enthusiastic sales agent, grinning ear to ear. He launches into his pitch about mega sales and the best deal of the century. Any question from you is brushed aside as he has more to say about the car model that he has decided you must have. Turned off by his sales strategy, you make a quick exit.
Or think of another example: A sales representative from a company whose website you browsed a few days ago follows up with a call and leaves a voice mail. The message is friendly. She does her best not to sound pushy. She introduces her "leading" company, which offers "a wide range of services" and a "one-stop-shop" for all your needs. By the time she reaches, "I look forward to meeting you," you're still ready to hit the delete button. Again, the voice mail was loaded with sales lingo.
As strange as it may sound, being "salesy" is bad for business. HubSpot, a marketing consulting service and software developer, goes as far as calling it one of the "7 Deadly Sins of Inbound Marketing."
It reads:
Sin 3: Gluttony – Don't be gluttonous and stuff your content with information about your company products.  Focus on solving problems and helping your customers and community first and not jamming your product pitch down their throats.  
Let's go back to the two examples above and transfer the line of thought to your blog. Rather than forcing your products on your prospective customers, take time to answer their questions. You are there for them. They may be in the beginning of their buyer's journey and far from ready to sign off on a brand new car. Perhaps they entered that dealership to browse, to check out the view behind the steering wheel.
And what if that voice mail had been phrased differently? What if the sales representative had spent a moment talking about what your browsing history said about the problems you're seeking solutions to and presented some real-life proof of how her company could help? Basically, she would have been more effective showing how her company can deliver value to you. The same goes for your blog.
Here's what you should do:
Stay informative and educational.
Demonstrate market expertise.
Sound like a business peer.
Focus on topics and questions of crucial importance to your target audience.
The bottom line: If you want to make a sale, stop selling.