How the supply chain industry can implement an information-driven marketing strategy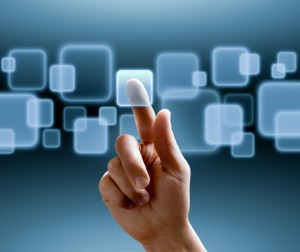 Before personal computers became ubiquitous, my family's desktop computer served as our sole connection to the digital world. It wasn't uncommon for someone to rush through dinner so they could be the first to claim their spot in front of it for the evening. On any given night you could find my mom scouring the web for new dinner recipes, my dad waiting his turn to research ways to improve his golf swing, and my sister bemoaning her wait to explore something decidedly less practical. Regardless of subject matter, though, each one of them sought the same thing – information.
Many years later, that same unbridled access to information has shaped a new environment. Companies are taking note and are reexamining the way they target and interact with consumers. As marketers, we are well aware that this new landscape, driven by changes in buyer behavior, looks far different than it did before. What's less apparent though, is how we should develop our marketing strategy to reflect these changes.
By leveraging advances in technology and using what we know about current buyer behaviors, we can begin to think about implementing an information-driven marketing strategy. That is, empowering buyers through thoughtful content curation and publication.
So, how can your company start putting some of these ideas into practice? Well, here are the basics.
You need a content strategy.
In a marketing environment where direct messages are being largely ignored by consumers, it's essential that companies provide real, meaningful value through the materials they publish. Just like my family, consumers are seeking to be educated. Gleanster Research found that 50% of leads are qualified, but not yet ready to buy. However, the odds are that someday they will be, and the content they're reading today will inform their decision to look to you – or not.
Publish and align your content thoughtfully.
Identify when and where your prospects are most likely to want or access your expert content. What kind of content will attract visitors, convert leads, close customers, and delight promoters? Where will they likely look for this information? Aim to deliver relevant content to the right people in the right places, at the right time. Consider that a recent study by Forrester found that a full 85% of business decision-makers said at least one social media channel is very important in the consideration of business technology purchase decisions. It's not just simply good business for your company to align content correctly – it's essential.
Consider the Buyer's Journey.
Gone are the glory days of the Sales Funnel. Enter the buyer's journey. This (relatively) new concept suggests that buyers follow a linear path as they move through the sales process: first the awareness stage, then the consideration stage, and finally the decision stage. Each of these stages in the buyer's journey necessitates corresponding content.  Want to raise awareness of your brand and attract visitors? Try offering a free eBook that addresses a key pain point of your ideal buyer. Looking to close that almost-there sale? Propose a free trial. By considering the journey of your buyer, you are more likely to provide relevant content at the precise moment your buyer needs it.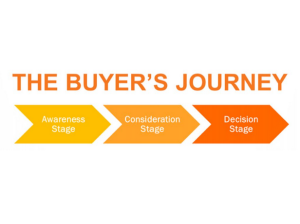 Considering the characteristics of this new environment, it's very unlikely that our prospects come to us completely uninformed. With more knowledgeable buyers, businesses must stay one step ahead. Implementing an information-driven marketing strategy gives us an attainable and inclusive way of achieving that.