Why Your Small Business Needs Google AdWords More than Ever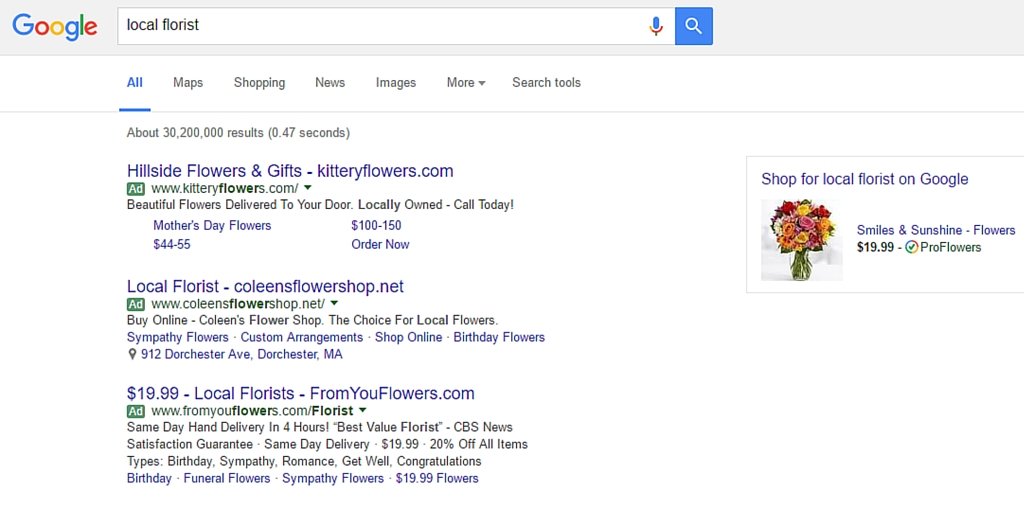 AdWords' upcoming updates will make it easier for local companies to earn the top spot on local search, which can drive significant new business.
Google AdWords has made it easier for local businesses to get their names in front of people searching for products and services like theirs. The update involves changes to the so-called "3-pack," or the listing of three related local businesses on a search results page. It's also known as the local pack.
Let me explain: When you use Google to search for a product, service, or provider, a map appears in your search results overlaid with three nearby businesses related to your search query. For example, I searched for a "granite provider," and got the following results: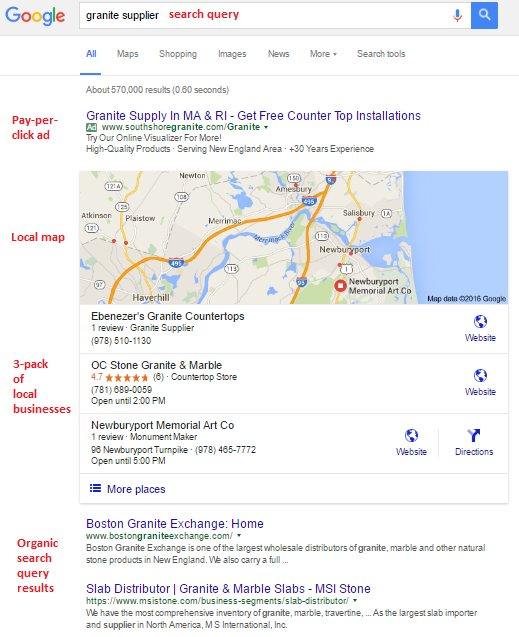 There is a pay-per-click ad above the map, followed by three organic listings (the 3-pack), and then the organic results of the search query.
Many consumers rely on the 3-pack to discover businesses in their area that offer the products and services they are seeking. And businesses get the benefit of many additional leads and customers when they appear in the 3-pack. This can be particularly significant for small businesses.
Moz conducted an thought-provoking experiment last August (when Google reduced the number of businesses listed below the map from seven to three). Users were instructed to conduct a search query, and Moz tracked where they clicked. The results were as follows:
44% clicked on a local businesses listed in the 3-pack

19% clicked on one of the pay-per-click ads above the map

29% clicked on an organic result below the 3-pack
While the experiment isn't totally representative of users who are searching for local providers — given they were provided a search query — it does suggest that users are more likely to click through to businesses appearing in the 3-pack than elsewhere.
How can I get my business in the 3-pack?
Here's where things get really interesting.
Currently, businesses who are aware of this phenomenon compete for these three coveted spots by spending lots of time, money, and effort optimizing their pages and outside factors (such as listings in local directories) to improve their chances of ranking in the 3-pack. Needless to say, small businesses with limited resources and know-how — those that could benefit most from appearing in the 3-pack — rarely have the opportunity.
But this is about to change. Google has been hinting at plans to include ads in the 3-pack. At a recent marketing expo, an executive confirmed that the team had been testing different variations of a reinvented 3-pack. He explicitly mentioned both one ad/two organic local listings and one ad/three organic local listings but noted testing was still underway.
Either way, businesses advertising in AdWords will soon have the opportunity to appear as the first listing in the 3-pack. The requirements are very simple. A business must:
Google has not released the official roll-out date or other details, but one thing is certain: It is more crucial than ever for small businesses to utilize AdWords to drive new business. The reinvented 3-pack has major potential for local companies, and the reasonable cost of AdWords campaigns makes it a no-brainer, especially for small businesses with limited time and expertise for search marketing campaigns.
Related posts: