Stop hibernating: You're missing out on company blog benefits
The benefits of a B2B blog are too important to overlook. Plus: Three companies that excel at content creation.
If your company blog has gone the way of the bears in winter, there is good reason to bring it back to life. That stale page on your website is more important than may realize. When months and even years go by without a single update, you're missing out on company blog benefits.
Let's cut straight to the stats:
70% of respondents in a Databox survey said SEO is better than pay-per-click (PPC) advertising for generating sales. (Can you guess what a leading driver of website SEO is?)
Blogs are among the top 3 tools used in content strategies (HubSpot 2020).
51% of companies say updating old content has proven to be the most efficient tactic implemented (SEMrush, 2019). (See our post on reworking content for SEO here.)
67% of companies use organic traffic to measure content success (SEMrush, 2019). (You guessed it: A blog is a key tool in boosting organic search traffic.)
72% of online marketers say content creation is their most effective SEO tactic.
Companies with blogs generate 97% more inbound links and 434% more indexed pages than those without.
In other words, a company blog brings benefits beyond just being a source of information, a tool to communicate with prospects, and to build brand. Despite new technologies, text will — as HubSpot points out in its 2020 State of Marketing Report — always be the foundation of search. And no place allows you to add descriptive text for improved search rankings as much as a company blog.
Not seeing company blog benefits? Here are 4 common pitfalls.
But as the significant number of hibernating company blogs shows, the pitfalls tend to come in spades. If your B2B blog is currently on snooze, let us guess the reason falls into one of the following categories:
Unforeseen events: The most recent example is, of course, the Covid-19 pandemic. Faced with massive upheaval, supply chain companies, in particular, had to reshuffle resources. Although a crisis could be the time to step up communication and position the company as a leader, some blogs went dark after releasing a statement on the pandemic and its impact on the business.
Unrealistic expectations: More than a few B2B blogs have run out of steam when immediate results fail to materialize. The disappointment tends to stem from unrealistic expectations. As much as everyone wants that first blog post to bring in a bucketload of leads, content marketing takes time to build momentum; but, done right, it is designed to turn into a tidal wave of improved search authority. Let patience rule and you will be rewarded.
Lack of resources: To stand out in a crowd of tough competitors is not accomplished in an afternoon. Managing a successful company blog takes time. Other than outsourcing, there really is no way around it. If the blog is run on the fly or is low on the list of priorities, the results will suffer along with the motivation to keep going.
Lack of strategy: Publishing for the sake of publishing will get you nowhere. Who are you writing for? What keywords are they using? How do you evaluate performance? Even well-written content can miss the target if it is not tailored around the audience you want to reach.
Lackluster content: Although we always stress the need for consistency and keyword optimization when it comes to blog content, there is yet another aspect that is just as important — quality. A company blog that does not benefit your target audience will not benefit you. The most successful B2B blogs combine SEO best practices with useful, high-quality content.
B2B blogging done right: 3 examples of great blogs
For inspiration, it always helps to look at the organizations that get it right. And there are many to choose from. Take a look at three that have realized company blog benefits with engaging and purposeful content. Although conceptually different, the visions of these blogs align with the goals of each company, whether it's generating leads with persuasive analytics or carving out a niche in social responsibility.
1. Cerasis: Market insights

The transportation management company was one of the early adopters of B2B blogging — and the results have been impressive. And Cerasis is not letting up. The company has published 15 blog posts in July alone, a pace few can — or don't necessarily need to — match.
2. General Electric: Global vision

A multibillion-dollar corporation has the benefit of ample resources — and GE is putting them to good use. General Electric Reports intelligently humanizes the company with a stream of stories on the impact of GE products on global progress and employee spotlights that tie into current events.
3. Comscore: Analytics first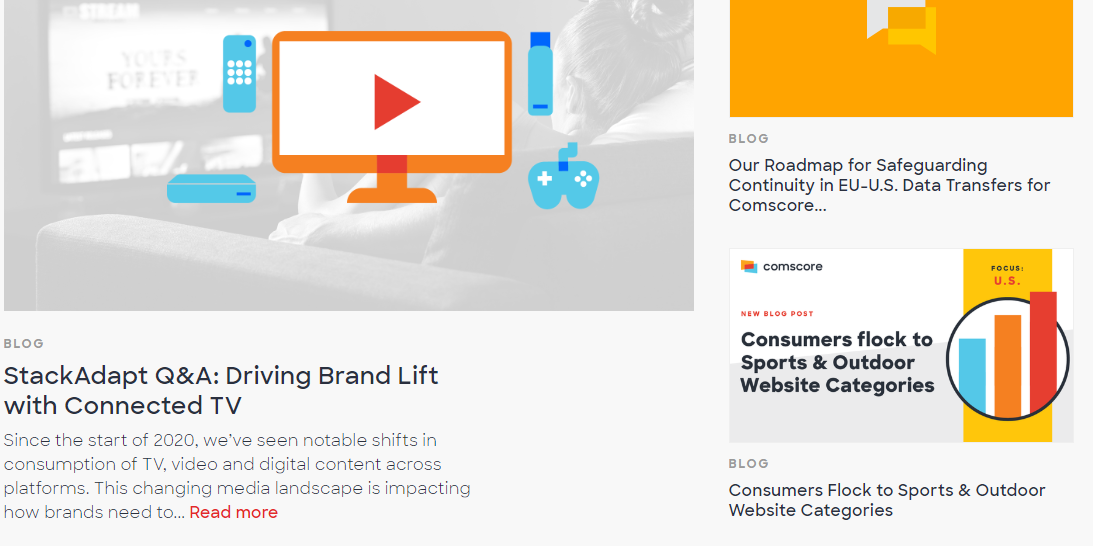 A look at Comscore's blog leaves no doubt about its specialty: the collection and analysis of internet data. Comscore draws upon its vast resources to create content that is found nowhere else. The ability to showcase such detailed expertise is sure to sway a target audience looking to leverage customer behavior online.
Time to crawl out
The impact of an effective B2B blog can be huge. It requires research and vision to get started, persistence to keep it up, and analysis to evaluate the performance. In the end, the benefits of a company blog contribute to the health of your entire organization.
How about waking that bear up again?
Read more:
Key step to moving beyond survival mode: Revising B2B buyer personas
Trade show cancellations call for contingency plans (It's urgent)