Why content is king and your business should take an oath of alliance to the kingdom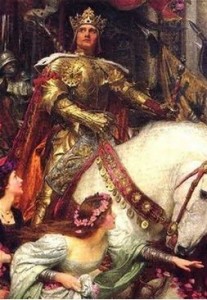 In the 1970s people were exposed to an average of 2,000 ads per day.  Today we are exposed to more than 5,000 ads per day.  The barrage of ads has resulted in buyers tuning them out. With buyers no longer paying attention to ads, businesses need to adjust how they find and engage new prospects, and how they establish and maintain long-term relationships with customers.
The solution: content.  Why content is king and your business should take an oath of alliance to the kingdom.
Content is inclusive of blogs, white papers, e-books, newsletters, infographics, podcasts, webinars, and video.  Creating and distributing valuable and relevant content in a strategic and consistent manner is what will drive profitable customer action.
Valuable and relevant content is not a sales pitch.  It is not content that pushes your products and services.  Rather, it is content that communicates valuable information to customers and prospects so that they have the knowledge to make better informed decisions.  Moreover, it is content that establishes your business as a reliable source of knowledge – as the thought-leader within the industry.
How does this translate into consumer acquisition and retention?  When the customer is ready to make a purchase they will reward your company with their business and with loyalty.
Skeptical?  B2B companies with an active blog generate 67 percent more leads per month than those who don't.  A study by the Custom Content Council found that 72 percent of marketers think branded content is more effective than advertising in a magazine, 62 percent say it is more effective than advertising, and 69 percent say it is 'superior' to direct mail and PR.
Content that will move the needle for your business is valuable content.  It is content that is informative, educational, interesting, and speaks to your customer's emotions and speaks to their pain points.  Furthermore, it is content that is delivered consistently over time and at the right time.
Before you start to create content for your business consider this sage advice offered by Arjun Basu: "Without strategy, content is just stuff, and the world has enough stuff."
Research supports Basu.  Companies that have a documented content strategy are more likely to consider themselves effective than companies that don't have a strategy in place (60 percent v. 11 percent).  Similarly, companies who put a person in charge of content marketing were more likely to be successful than those who did not (86 percent v. 46 percent).
How do companies put together and execute a content strategy?  Eight percent of B2B marketers outsource content planning and strategy.  Sixty-four percent of B2B marketers report that they outsource writing and thirty percent outsource distribution and syndication.  Diving down further, 72 percent of large B2B companies (1,000 employees or more) outsource content creation and 34 percent of small B2B companies (10 to 99 employees) outsource content creation.
Content is king.  By taking an oath of alliance to the kingdom, your company will attract and retain customers.  Your company will realize an increase in leads, short sales cycles, and more loyal customers.
If you'd like to learn more about creating a content strategy for your business and/or about content creation , get in touch. 

A version of this article also appeared on DC Velocity