Cerasis talks content marketing and social media
This is the first in a series of blog posts written by Adam Robinson, Director of Marketing at Cerasis.  Founded in 1997, Cerasis is a top freight logistics company and truckload freight broker.
The purpose of this series of blog posts is to give others in our industry and especially those in the manufacturing industry, a guide to create an effective digital, social media, and content marketing strategy which will produce results for your company. If you have followed the Cerasis blog since its launch in March 2013, you have noticed that we work really hard at executing our strategy. The reason we work so hard is because we are passionate about educating the marketplace on information that matters to them. In that way, we want to be the de facto expert in the manufacturing and logistics industries. If we can help those who are our customers and potential customers (manufacturers and distributors) with best practices around logistics and freight, as well as manufacturing industry news, we are continuing our mission of driving long term value (even if we give the information away for free). The result (we hope and have seen) is that people view us as the expert and will want to engage us in a long term relationship as their logistics services provider. We hope this is helpful and you learn something from it!
Background of Cerasis use of Content Marketing and Social Media
Company started formal marketing for the first time in October 2012, its 16th year.
Little brand awareness, not thought of as a thought leader, but company still grew well by referral.
It was important for us to establish our messaging, our target audience, and how we were going to best market the company.
We didn't have any budget for advertising, and with the rise of content marketing, we knew it was important to use social media and content as a way to start marketing and fine tuning the messaging of the company.
We finished our market research phase (tips below on how to conduct one), and knew the content and who we wanted to reach.
We then looked at all the social media channels and decided which platforms to use and what online communities to join.
We built a strategy and started executing our content by simply posting one piece of content every business day.
Digital Marketing Strategy Approach for Cerasis
There is a process to strategic planning in order to lead towards sustainable marketing programs which yield a tangible return-on-investment (ROI). The process starts with understanding where social, digital, content, and traditional marketing fits in the world of inbound lead generation and increased brand awareness.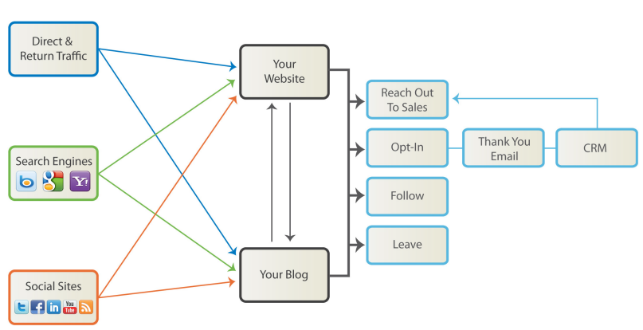 The goal of any strategic plan should be to find and acquire new customers and to grow existing customer relationships. The map on the next page shows how customer engagements happen online and in general. This map to the left helps us determine Cerasis's route, analyze where we currently are, and hone in on where we should focus our attention to keep the strategy on track.
So, what are all the results from our social and digital marketing you ask?
Cerasis Quick Stats (Sept 12 to March 14)
All Visits to Cerasis.com: 4,476 to 34,461 (669.91% Increase)
Blog Visits: 0 to 28,271 (notice how without our content and social media, we would not have grown our website visits to where they are today)
Social Media Visits: 4 to 8,546 (214,550% Increase)
Search Visits: 711 to 16,275 (2,189.03% Increase)
Social Community: 175 users total to 9,635 users total

Twitter: 0 to 2,760 Followers
FB: 0 to 492 Likes
LinkedIn Group Members: 0 to 3,550
LinkedIn Profile Connections: 120 to 1,456
LinkedIn Company Page Followers: 51 to 529
Google Plus Followers: 0 to 662 and over 310,000 views of the Company Page
Pinterest Followers: 0 to 188

Engagement Numbers:

Twitter Mentions/RTs: 14,825/5,721
LinkedIn Group Comments: 12,766
Facebook Comments, Likes, Shares: 1,484
LinkedIn Page Impressions/Interactions/Clicks: 247,359/566/1,560
Pinterest Impressions/Repins: 73,698/327
Blog Comments: 841
Google Plus +1s: 2,976

Conversion data (note, leads vary based on industry; 1 sale for us can mean a lot of revenue)

Leads From Search Engines: 71
Leads From Social Media: 65
Leads From Webinars: 52
Total Customers Gained: 35
Conclusion
Social media, content, and digital marketing are much like the Pareto Principle: Focus on the platforms and entities which yield the highest results, don't just do something or be somewhere to do it! It all comes down to strategy! Now, if you have the resources to be on every social media platform, you should, but only if you do it well!