Don't fall prey to "content stuff"
Content marketing is among the hottest topics in marketing and media.  However, most companies should stop their content marketing efforts – immediately.  The reason these companies should stop is because, despite the hipness of content marketing, they will not realize a positive ROI and will not grow their business through content marketing.  In short, many companies are just plain wasting their time and money.
Everybody – companies and customers – has stuff.  Joe Pulizzi, Founder of the Content Marketing Institute, discusses the importance of not only recognizing this reality, but also the importance of acting on it.
Pulizzi defines three categories of stuff:
Corporate stuff;
Content stuff; and
Customer stuff.
The majority of companies fall prey to focusing on content stuff within a vacuum.  But, as Pulizzi points out: "For content marketing to work, we need to link the corporate stuff with the customer stuff through content."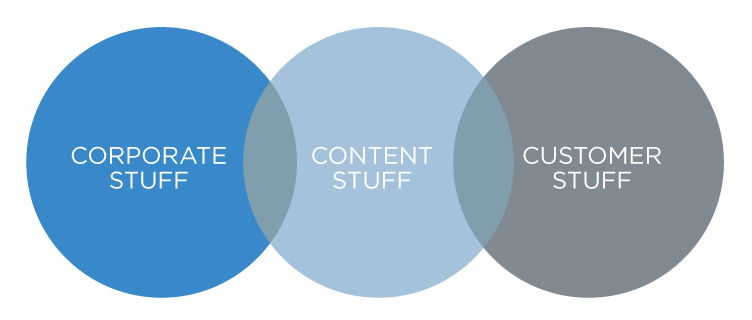 What does this mean?  This means that in order for content marketing it be effective you need strategy.  Strategy is what enables you to link what you know as a brand (corporate stuff) with customers' needs (customer stuff) through content.
The importance of strategy is underscored by the results of a 2014 study.  The study found that 93% of B2B marketers use content marketing.  60% of companies who have a documented content strategy in place consider their efforts to be effective as compared to 11% of companies with no documented content strategy in place.  Similarly, the study found that companies who put a person in charge of content marketing were more likely to be successful than those who did not (86% vs. 46%).
If your company is employing content marketing and does not have a strategy in place, stop.  Create a strategy, put someone in charge, then re-start your efforts.  With a strategy in place, content marketing will drive profitable customer action.