Infographic: Fourth of July and the Supply Chain 2019
U.S. Consumers will shell out $6.78 billion on food for cookouts and picnics for the Fourth of July 2019.
---
Highlights:
Holiday food spending is projected to be down slightly from recent years.
More Americans than ever (48.9 million) are planning to travel this Fourth of July.
Men are expected to spend about $10 more on average than women.
---
As Americans get ready to celebrate the nation's 243rd Independence Day, the National Retail Federation is making its annual list of projections for spending. Holidays have a big impact on the supply chain, and the Fourth of July is no exception.
Who's spending what?
This year, 86% of Americans are planning to celebrate the Fourth of July.  That number is down very slightly from recent years, with 87% celebrating in 2018 and 88% in 2017. Consequently, the average expected spending is down by just a few dollars this year, coming in at $73.33 per person, as compared with $75.35 last year.
Interestingly, while men and women are planning to celebrate in just about equal numbers (86% and 85% respectively), women plan to be significantly more frugal than men when it comes to purchasing food. Men are expected to spend $78.68 on average, while women plan to spend $68.20 each.
What's everyone doing for the Fourth of July?
Cookouts, BBQs, and picnics are in most people's plans (61%), with 40% planning to attend fireworks or other community celebrations, and 11% are attending parades. 26% of Americans are expected to purchase patriotic merchandise for Independence Day this year.
Even though overall spending is expected to be slightly down this year, AAA estimates that a record-breaking 48.9 million Americans are planning to travel this Fourth of July. This is a 4.1% rise over last year, with 1.9 million more people planning to get on the road this year. AAA credits the record numbers to lower gas prices, strong economic fundamentals, low unemployment, and rising disposable incomes.
Hot dog stats
Americans eat hot dogs better than just about anyone, and this Fourth of July, we're expected to chomp down on roughly 150 million. It's worth remembering that a year ago, Joey Chestnut set the record for the number of hot dogs eaten in 10 minutes, working his way through an impressive 74. Hot dogs are best washed down with a patriotic toast, and Americans are expected to spend upwards of $1.6 billion on beer and wine.
However you plan to spend the Fourth of July, Fronetics wishes you and your family a fun-filled and safe weekend.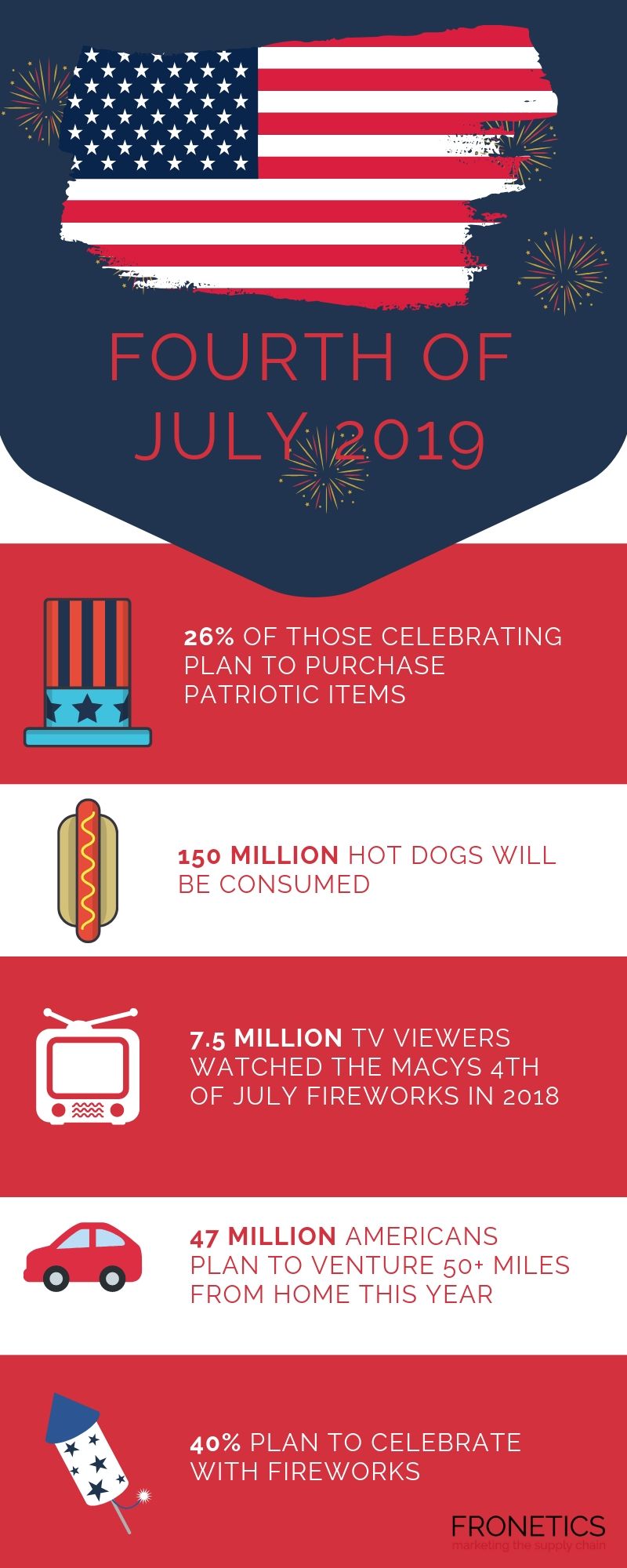 Related posts: