Valentine's Day 2017: A Supply Chain Infographic
Consumers will spend $18.2 billion on Valentine's Day 2017, down from a record-high 19.7 billion in 2016, according to the National Retail Federation.
Did you purchase something sweet for your loved one to mark the special occasion this Valentine's Day? You won't be alone in your pursuit to find the perfect box of chocolates. According to staticsbrain.com, 47.5% of consumers celebrating Valentine's Day 2017 will purchase chocolate or candy, and retailers will sell over 36 million heart-shaped chocolate boxes.
Connection between chocolate and Valentine's Day
The history of the love of chocolate dates back to the Mesoamerican time, when it was viewed as a luxury item by the Mayan and Aztec upper-class elites. It wasn't long until the popularity of the confection took over Europe and, centuries later, landed in America. Richard Cadbury created the first box of chocolates in 1868, and from there the commercialization of the treat grew. Chocolatier giants, such as Hersey and Russell Stover, have created a $98 billion industry.
Labor of love: chocolate and supply chain
When you purchase the little heart- shaped box of chocolates for Valentine's Day this year, remember the labor of love that went into creating those delicious sweets. From the small cocoa farmers in Ghana and Côte d'Ivoire to the cocoa processors to the chocolate manufacturers and retailers, there are many hands that work together before the product reaches you, the consumer. These products — and gift-givers everywhere — rely on the logistics and supply chain industries each Valentine's Day.
Valentine's Day 2017 Infographic
Here's a quick look at how U.S. consumers will spend — literally and figuratively — this Valentine's Day.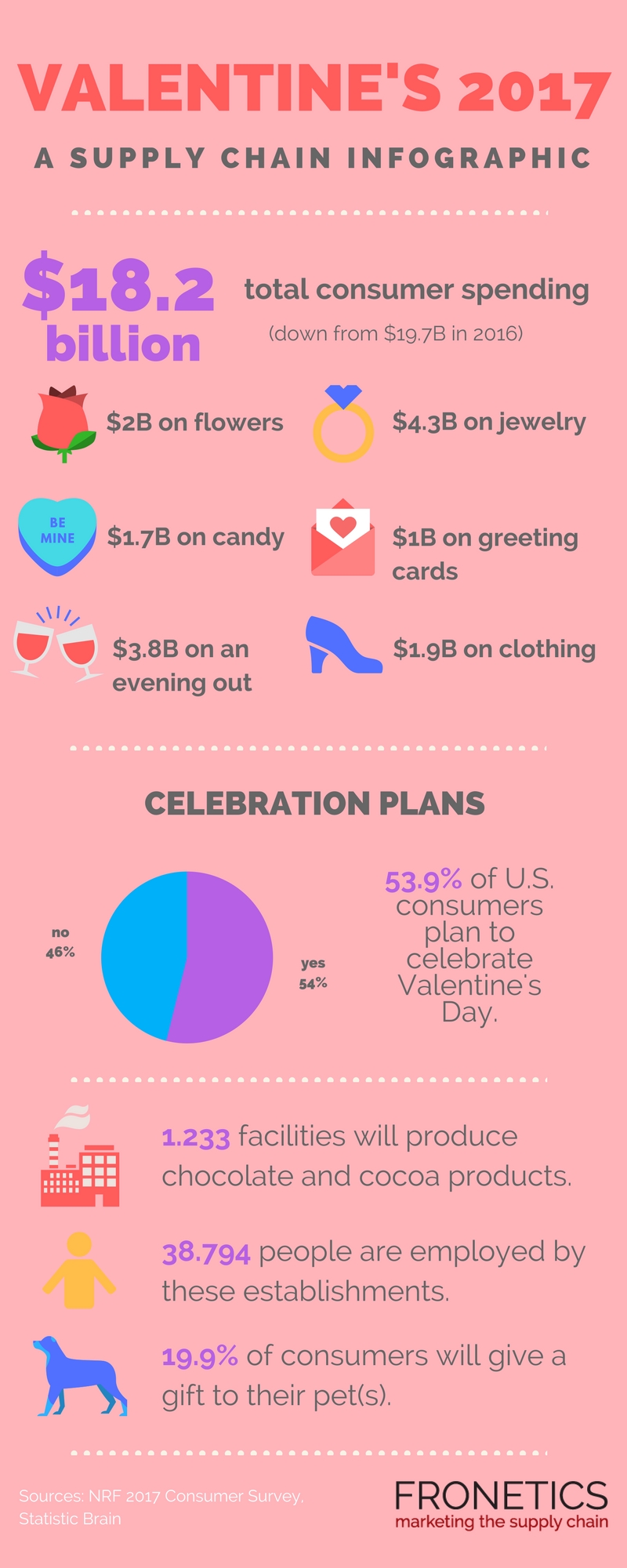 Related posts: