Infographic: How Content Can Help in Each of the 7 Stages of the Sales Cycle
Here's how content can help support sales during the seven stages of the sales cycle, including personalization and building last relationships.
The sales process is often a complicated journey that includes uphill climbs and unexpected roadblocks. Sales teams are all too familiar with these obstacles, but they don't have to fight these battles alone.
Arm a sales rep with targeted content to share with prospects during specific moments in the purchasing process, and it will build his or her reputation as a knowledgeable resource. That can be the key to getting a foot in the door, advancing through the final stages of a purchasers' decision, or closing the deal.
Strong communication between sales and marketing can help achieve big-picture goals when it comes to creating content, including:
mutual understanding of the buyer's journey
updated prospect insights that can affect future marketing content
brainstorming content solutions to bottlenecks in the sales funnel
Let content support the sales cycle by demonstrating the business value of your product or solution.
Here are examples of how content can assist your sales team throughout the seven stages of the sales process, even when the sales journey goes off course.
Infographic: 7 Stages in the Sales Cycle Content Can Help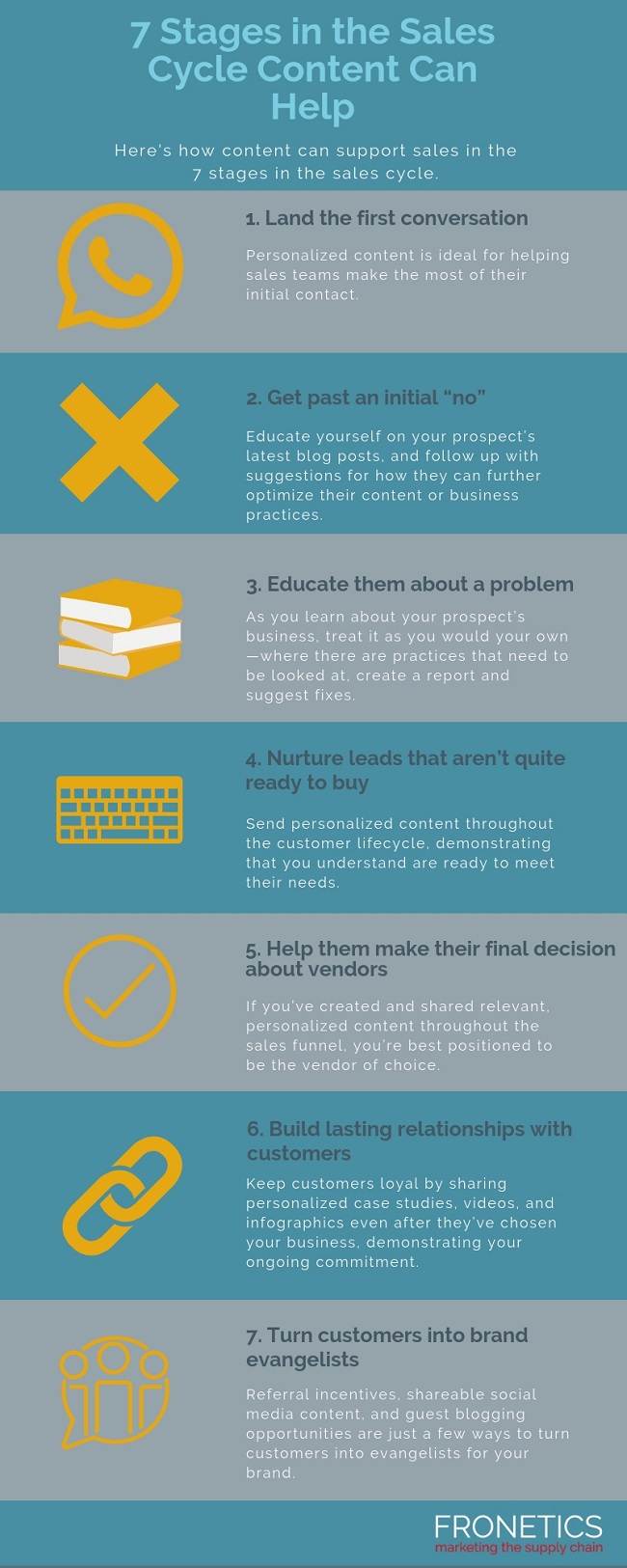 Takeaway
According to DemandGen's survey, 75% of buyers said that content had a significant impact on which vendor they chose. And that's not all, 89% of respondents stated they selected brands that provided content that made it easier to demonstrate ROI and/or build a business case for their purchase.
These numbers highlight how important it is for sales teams to be armed with informative, relevant content to support the sales cycle. It's not enough to just produce content, sale teams need to be ready to provide this content to potential customers at every point of contact.
Want help identifying what content your supply chain and logistics company can provide to your sales team? Let us help.
Related posts: