Want to be a great content marketer? Think like a manufacturer.
Think like a manufacturer
Gartner's Jake Sorofman wrote a great piece about building a content supply chain.  His advice for understanding what it takes to use content as a tool to grow your business: think like a manufacturer.
Why?  Sorofman connects the dots:
Manufacturing is actually an instructive example for what it takes to scale and sustain a content marketing program. Why? Because content marketing requires a replenishing pipeline of engaging content—a content supply chain—that helps feed the beast every day.
The following table (adapted Sorofman's article) further illustrates the parallel between manufacturing and content marketing.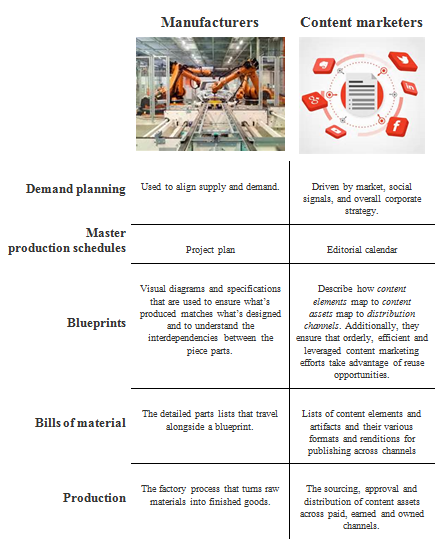 How can you successfully replenish your content supply chain and grow your business?
Strategy.  As in manufacturing, strategy is essential when it comes to content.  Without a strategy in place your content efforts will fall flat and will not help you grow your business.  Want to learn more about creating a content strategy that will drive profitable customer action?  Download our eBook: Grow your business with content: 12 steps to a content strategy.