2017 Holidays Supply Chain Infographic
With the 2017 holidays right around the corner, consumers are digging into their pockets and getting ready to increase sales, especially online.
The National Retail Federation is estimating that holiday sales will be up 3.6-4% from last year, totaling $678.5 billion in holiday spending. What's more, consumers will be hitting the malls earlier than ever. More and more retailors are forgoing the traditional Thanksgiving dinner to open their stores during the holiday. Major retailers, including Target, Kohls, and Toys "R" Us, will open their doors at 5 p.m. on Thanksgiving Day.
"[Thanksgiving] was a strong weekend for retailers, but an even better weekend for consumers, who took advantage of some really incredible deals. In fact, over one third of shoppers said 100% of their purchases were on sale," said NRF President and CEO Matthew Shay in 2016.
The NRF is estimating that the average consumer will spend $967.13 during the holiday season, almost $300 of which will be spent during Thanksgiving weekend.
Holiday spending can be broken up into three major categories:
Gifts
Items such as food, decorations, flowers and greeting cards
Other non-gift items consumers buy for themselves and their families
For the first time in NRF's survey history, online shopping has become the most popular shopping destination. In fact, 59% of consumers will head to their computers for holiday spending, where most will benefit from free shipping (94%).
"While many consumers are holding off until November or later to start their holiday shopping, retailers should be prepared for high traffic online and in stores come Thanksgiving weekend," Prosper Insights Principal Analyst Pam Goodfellow says. "Although sales will remain an important factor for most consumers, many will lean on convenient locations and easy-to-use websites or mobile apps along with free shipping to complete their purchases."
2017 holidays supply chain infographic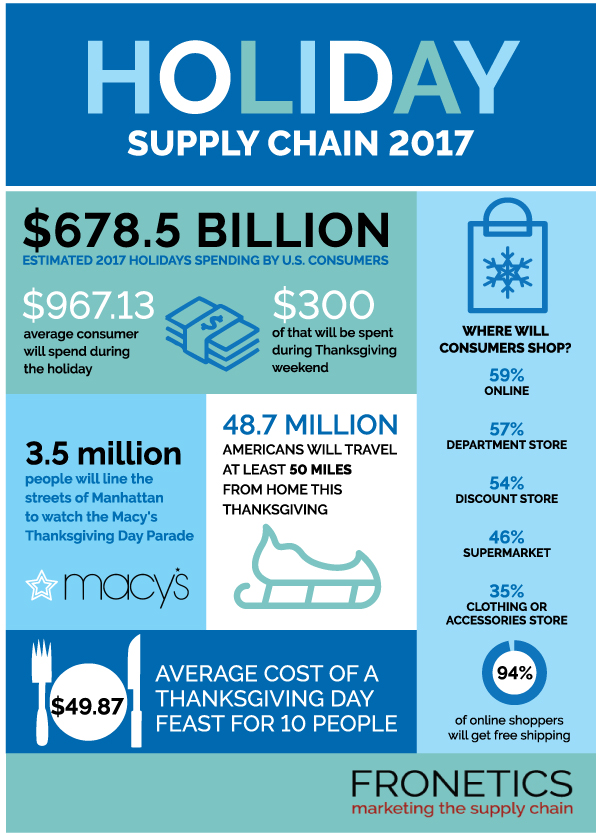 From all of us at Fronetics, have a wonderful Thanksgiving!
Related posts: