I'm Only Here for the Boos: Halloween 2017 Supply Chain Infographic
Consumers will spend a record $9.1 billion during Halloween 2017.
U.S. consumers will take to the retail markets Halloween 2017 and spend a whopping $9.1 billion on Halloween costumes, decorations, candy and more, making it the largest spending for the spooky holiday to date.
The National Retail Federation reports that consumers are preparing to be the baddest witches on the block, spending almost a billion more dollars this year on supplies than in 2016 ($8.4 billion). And the men are really stepping up their game, spending on average $20 more per costume than women.
"Americans are planning to spend more than ever as they gear up for Halloween," NRF President and CEO Matthew Shay said. "Retailers are helping customers celebrate in style with a huge selection of costumes, candy and decorations to cater to ghosts and goblins of all ages."
From 2017 blockbuster hits like Wonder Woman and Spiderman, it's no wonder the most popular costumes for kids are superheroes. And let's not forget about Fido — the most popular costume for pets for Halloween 2017 is a pumpkin.
Still need inspiration for the boo bash you're attending? Try heading over to Instagram, a source of inspiration growing 12% year-over-year. Other consumers will get ideas from online search (35.2%), a retail store (30.3%), Facebook (18.2%), Pinterest (17.9%), and pop culture (17.2%).
Need more fun facts about Halloween to get you into the scary spirit? Check out this year's infographic from the NRF's survey.
Halloween 2017 supply chain infographic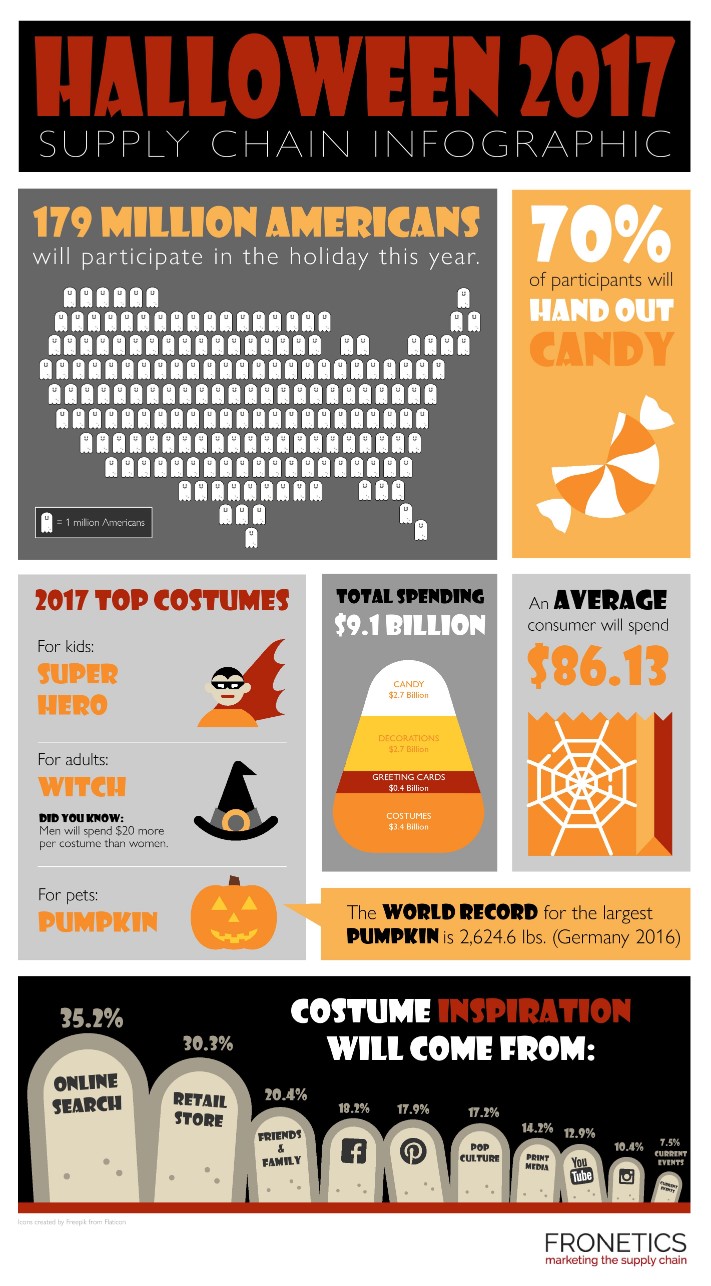 Have a safe and happy Halloween 2017, everyone!
Related posts: