Infographic: 5 Social Media Tips for Supply Chain Leaders
Supply chain leaders should use these 5 social media tips to grow brand awareness and increase your company's profile as an employer.
Like most busy executives, it's hard to find time for your daily tasks and projects without adding social media into the mix. But having a presence on social media is no longer optional for leaders. It's a necessity.
Though branding might not come easily for some supply chain management executives, it is key in today's digital world for positioning yourself as a thought leader in your industry, as well as gaining positive traction as an employer.
We've talked a lot about the supply chain talent gap. Here's where a consistent, informative social media presence could help you and your company.
Millennials in the workforce are more likely to apply for jobs with companies that have a strong social media presence. They want to work for leaders that are openly posting about industry trends, collaborating with competitors, and working toward innovative products and services. What better way to highlight your role as an industry leader than through social media?
Getting started can be intimidating. There are lots of different social media channels. And even more options regarding content within those channels. Do you start a blog? Post on Twitter? Upload videos to YouTube? It's not as easy as just writing a few blog posts and throwing them up on Facebook.
So how do you get started cultivating a social media presence? Here are 5 tips to help any supply chain leader.
Infographic: 5 social media tips for supply chain leaders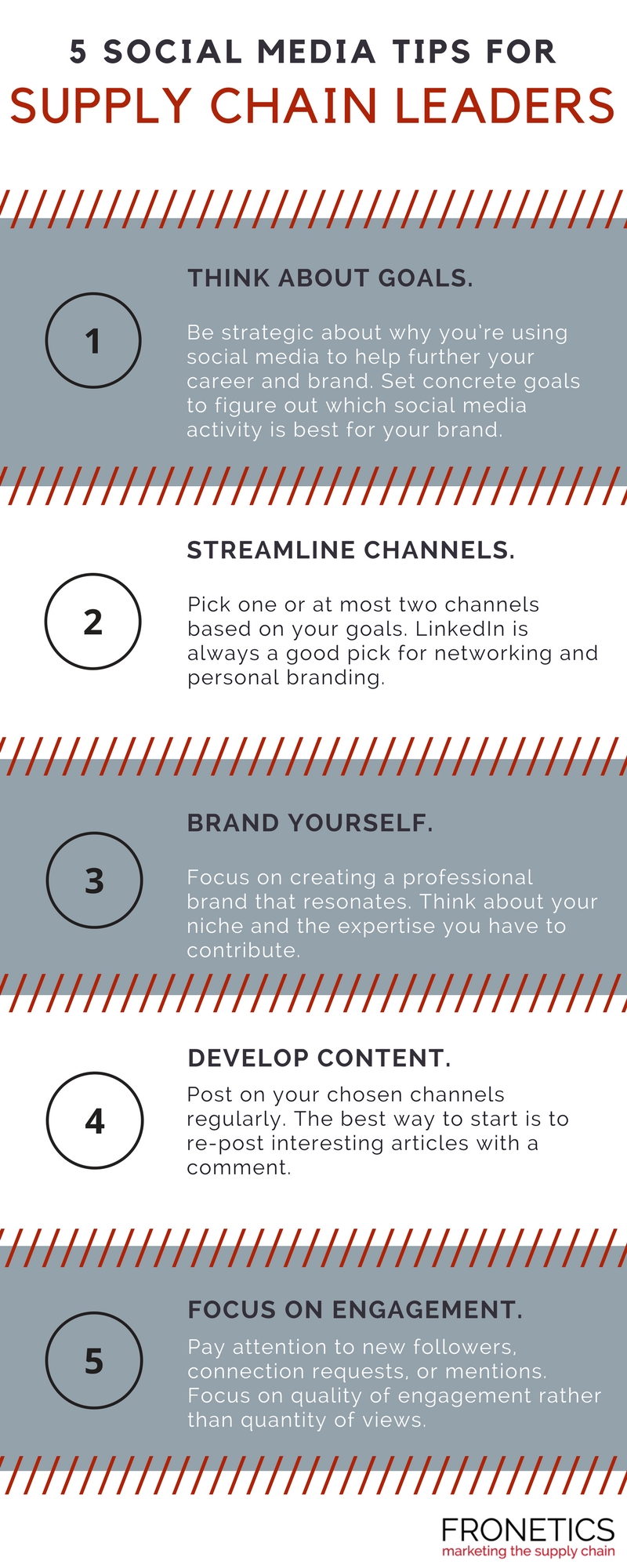 Don't let the hype of social media deter you. A strong personal brand is a major asset to any executive or aspiring executive. It doesn't have to be a chore. It can become a fun and fulfilling part of your work routine, and it pays off. We hope these tips are useful even if you've been active on social media in a professional capacity before!
Related posts: