Infographic: Here's Why Supply Chain Companies Need to Try Live Video
Live video streaming offers businesses a cost-effective strategy for engaging with and appealing to today's buyers.
With YouTube emerging as the world's second largest search engine and video becoming themost popular form of online content,it is no surprise that businesses are looking for ways to engage their target audience through video. And they're even diving into a growing trend in video marketing: publishing content in real time. It makes sense, given live video streaming now represents 33% of all online activity.
Live video was used more for niche markets in its early days. But 68% of marketers plan to start using live video in the next year, and 77% of marketers plan to increase their use of video overall.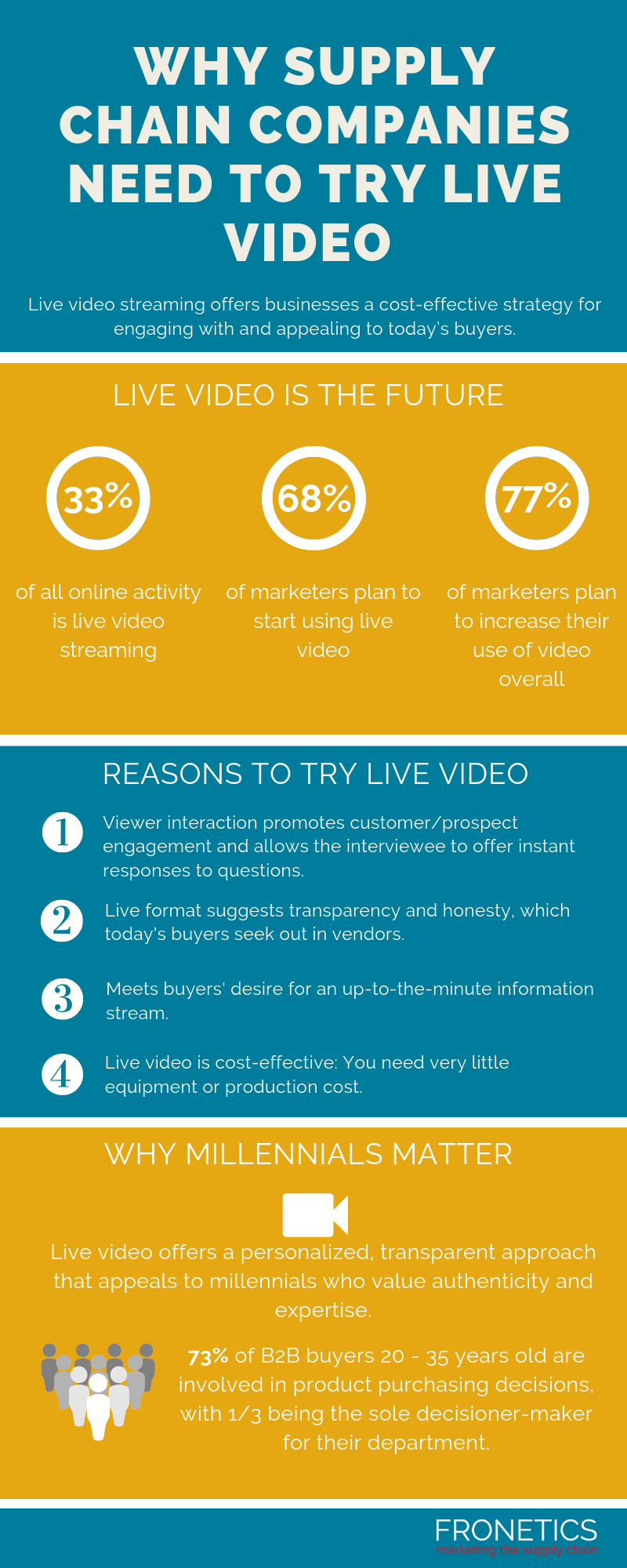 How can live video work for the supply chain?
Live video is an increasingly popular content medium for the millennial generation, which is important for supply chain marketers to note as the B2B purchasing landscape skews younger. Consider that around 73% of 20 to 35 year olds are involved in product purchasing decisions at their companies, with one-third reporting being the sole decision-maker for their department. And a 2015 Google/Millward Brown survey of buyers found that about half of purchasing researchers were between the ages of 18 and 24 — and that percentage has only grown in the last few years.
Another important trait to note about millennials? They're immediately turned off by overt sales pitches. Instead, they expect vendors to offer them value outside the sales funnel by way of education, entertainment, inspiration, or knowledge. So instead of creating video content to promote products, supply chain companies should use the opportunity to provide viewers with these elements of value they expect.
Live video streaming is the ideal medium for doing so, as it offers the transparency, emotion, and personal elements millennial buyers desire. Vendors can connect with buyers on an emotional level while simultaneously communicating their companies' expertise, which directly impacts the buyers' opinions of their solutions.
4  reasons to try live video streaming
Live video streaming offers real benefits for supply chain companies in addition to the increasing opportunity to connect with prospective buyers. When clients ask about whether they should try live video, I give them these four reasons:
1. Earn customer/prospect engagement and feedback
Most live video platforms have features that allow for viewer interaction, meaning customers and prospects can ask you questions and get instant responses. (Talk about excellent customer service!) That generates a positive experience that strengthens their relationship with your company. Also, you get the benefit of hearing feedback from a portion of your audience, which you can use to drive change and growth.
2. Promote transparency
Live video can be unpredictable, raw, and honest — which, admittedly, can be scary for the person filming. But today's buyers crave this kind of transparency. When you go live, things may not always go as planned, but that will work in your favor more often than not.
3. Appeal to those who love to be in-the-minute
Social media users love to feel on top of their information streams. Live video offers that sense of insider, up-to-the-minute scoop that appeals to them.
4. Publish video in a cost-effective way
High-production videos can be costly and can take weeks to produce. One of the best parts about live video is that you need only a smart phone, a Wi-Fi connection, and someone willing to appear on camera (which is sometimes harder than it sounds). Publishing happens in real time, and then most platforms allow you to archive the footage for viewers to access later.
The takeaway
We've seen clients have great success with live video streaming. It's one of those trends that's not going away anytime soon. In fact, social platforms are increasingly adding "live" and "Stories-like" features to satisfy users' seemingly insatiable appetite for this format.
That means if you haven't tried live video, you should think about it. Pretty soon you'll be one of the only ones among your competitors who is not — if you're not already.
This post originally appeared on EBN Online.
Related posts: