Why the sharing company can count on success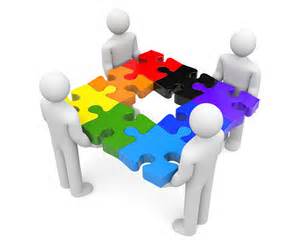 The sharing of tangible and intangible assets will increasingly become a fundamental feature of successful businesses.
Few developments of late are as intriguing as the rise and disruptive impact of the collaborative economy. In a very short time, services that we may have thought of as permanent fixtures of our business and personal lives have been rendered obsolete by the sudden sharing of tangible and intangible assets in the peer-to-peer, business to consumer (B2C), and business to business (B2B) spheres.
B&B and hostels, car rental, and DVD rental are giving way to peer-to-peer accommodations, car sharing, and music and video streaming. The Marriott Hotel chain used the online platform LiquidSpace to convert empty conference rooms into rentable work spaces for guests as well as outside visitors. Walgreens teamed up with TaskRabbit, an online marketplace for outsourcing errands, to deliver products during flu season. The list is endless.
Rachel Botsman, an innovation strategist who has spent the past four years studying 500 collaborative economy startups worldwide, concludes in Harvard Business Review:
The real power of the collaborative economy is that it can serve as a zoom lens, offering a transformative perspective on the social, environmental, and economic value that can be created from any of a number of assets in ways and on a scale that did not exist before. In that transformation lie threats—and great opportunities.
While consumer sharing may have received the most media attention, Robert Vaughan, an economist at PwC Strategy & Inc., argues the open sharing of resources among businesses may present an even larger opportunity. Although, on the surface, it seems like an unlikely marriage – businesses do compete, after all – a growing number of successful collaborations prove Vaughan is right.
In just a few years of activity, it has become clear that the unfettered exchange of otherwise unused major assets, including physical space and industrial equipment, allows a sharing company to operate more efficiently than its non-sharing rivals. Companies that go further still, wholeheartedly embracing the sharing of less tangible assets, may benefit from a different sort of change, one involving their culture, that builds new types of connections with, and sensitivity to, the world outside.
One example of an interesting collaboration involves General Electric and Quirky, an online inventor community. GE and other market giants such as IBM and Samsung file thousands of patents every year, most of which never move beyond the drawing board. The collaboration gives Quirky open access to GE's patents, allowing for products that normally would not have been put to productive use – such as a smartphone controlled window air conditioner – to be brought to market.
Sometimes a direct collaboration may not even be necessary. A company may choose to place an undeveloped product on an online technology exchange, thereby opening itself to the possibility of building a connection to another company with complimentary expertise.
In many respects, enterprise sharing is still in its infancy and is likely to evolve just like Airbnb, whose concept seemed "fringe" when it launched in 2008 (it was initially marketed as a service for people to stay the night on their air beds in strangers' homes). Now the company has amassed more than 650,000 rooms in 192 countries and threatens to disrupt not only the hotel industry but the entire hospitality sector.
---
Fronetics Strategic Advisors is a leading management consulting firm. Our firm works with companies to identify and execute strategies for growth and value creation.
Whether it is a wholesale food distributor seeking guidance on how to define and execute corporate strategy; a telematics firm needing high quality content on a consistent basis; a real estate firm looking for a marketing partner; or a supply chain firm in need of interim management, our clients rely on Fronetics to help them navigate through critical junctures, meet their toughest challenges, and take advantage of opportunities. We deliver high-impact results.
We advise and work with companies on their most critical issues and opportunities: strategy, marketing, organization, talent acquisition, performance management, and M&A support.
We have deep expertise and a proven track record in a broad range of industries including: supply chain, real estate, software, and logistics.