Archive for Jennifer Hart Yim
---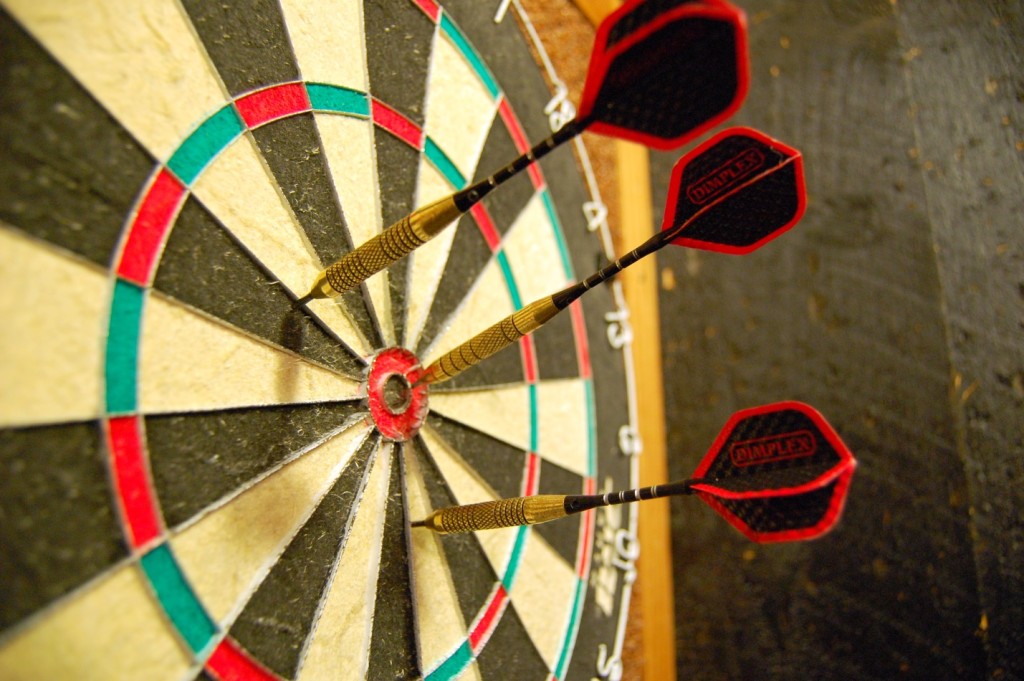 Around the time when the leaves start changing color every year, companies turn their focus to year-end revenue and gross profit forecasts. Those forecasts, in turn, are used to inform the establishment of sales and revenue targets for the following year. These goals can inspire your sales team to re-imagine internal processes to drive stellar results. Or, they can have a real demotivating effect on the team and organization.
Follow these four steps to create challenging but achievable goals that will lead you to better results, more consistent targeting, and a team that is motivated for the long run.
Evaluate
Look at the current state of your business and define your desired sales/revenue outcome based on this knowledge. Yes, this is much harder than saying, "my boss says to grow by 30%", but the deep understanding of you current state will lead your organization stop focusing on the numbers to achieve and start focusing on the process of achievement. This is the hardest and most detailed step.
Segment
Once you have established the current state and desired outcome; break up these revenue/sales numbers and the process to get them into small portions. By doing this, you establish a pattern of smaller wins/process goal attainment. In the end, you will have developed a culture of winning and/or adjustment instead of an "all or nothing" mentality.
Structure
Now, build in a system that rewards superior behavior and discourages falling short. You will still have the over-achievers….they need to feel fairly treated for being better than average. You will have folks who fall short…they need redirection and course correction (maybe even managed out of the business). Remembering that since these are "small chunks" your team never gets too far behind before a correction can occur and your top performers are still treated as stars.
Adjust
Lastly, develop a culture of "adjustment", both up and down. Most teams are used to a big target at the beginning of the year that never adjusts….you win or you lose….and so does your company. I think we all know the reality is that in the current economic environment, it's not that simple. Having the ability to adjust as your "knowledge of the current state" becomes definite allows you to throttle up when you can and down when you have to.
One word of caution, if you try this approach you need to commit all the way. A half attempt at this would be disastrous. You need to commit to change in order to change your culture and to get the results that you want. One last thing, if you are now saying to yourself, "that's all well and good, but my external stakeholders (lenders, principles, shareholders, managers, etc.) aren't sympathetic to this type of curved lined forecasting". I get that too. The answer is simple. Once have your current state defined and your desired outcomes articulated, take a conservative approach to this forecast and decide whether it is good enough for your external stakeholders. If it is, you have your worst case scenario that should only be affected by upside surprises. If it's not, no hoping or praying for you to achieve your goals is going to make it any prettier in the long run. Make the strategic adjustments now and be better off at the end of the year.
Archive for Jennifer Hart Yim
---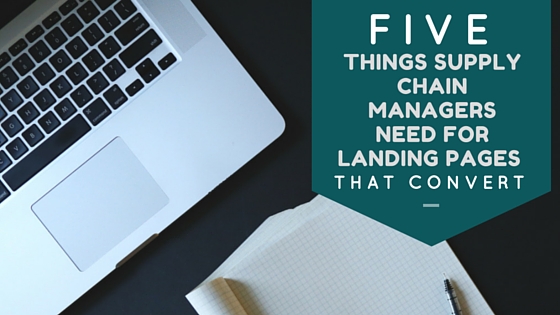 Landing pages are a fundamental tool in converting website visitors into leads. They're what convince your visitors that they absolutely must download your fabulous resource offer. Yet often times they're treated as the annoying little sibling to high-value content pieces – tagging along almost as if an after-thought. In reality, landing pages have just as much, and possibly even more importance than the content offer. Besides, what good is your best resource if it's landing page stinks?
Here are five tips supply chain managers need to build landing pages that are sure to convert visitors into leads.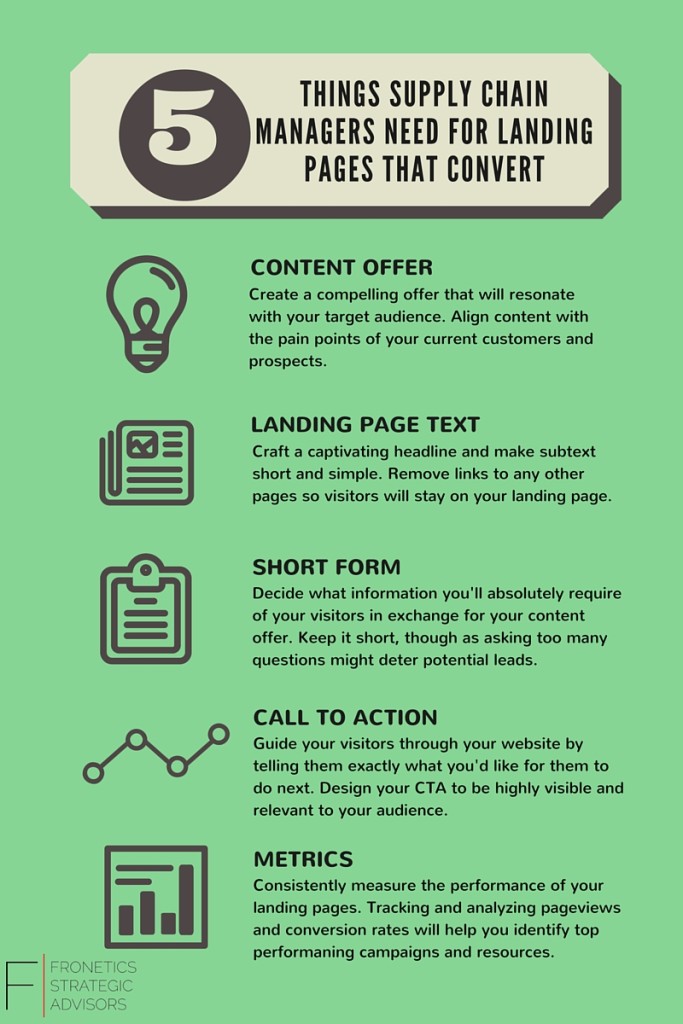 Archive for Jennifer Hart Yim
---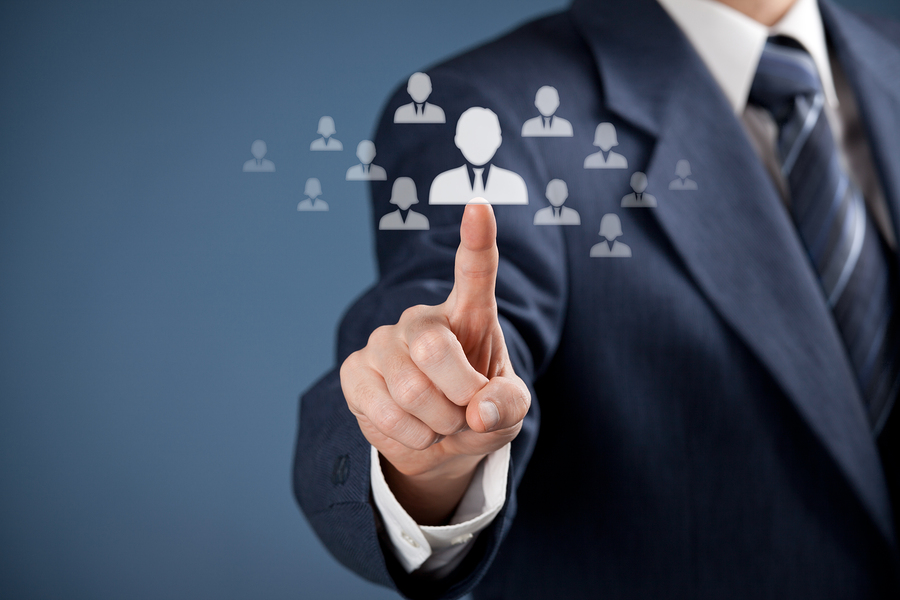 Outsourcing isn't new to the business world. It goes back as far as the Industrial Revolution. Before then, it was common practice for businesses to perform all functions of product and service delivery, from product manufacturing through to product delivery. Sometime in the mid-1800s, independent architects, engineers, and legal professionals began to operate in larger U.S. cities taking on project-based work for a number of clients.
More than a hundred and fifty years later, outsourcing has become a staple business tool, offering benefits for employees and employers alike. Employers enjoy a reduction (or cost savings) in operating costs, improve their focus on core competencies, and employees are free to concentrate on their highest and best use.
With tech now advancing faster than ever, your business should be looking to leverage outsource partners to support your digital efforts.
Here are our picks for 6 digital and content marketing tasks you should consider outsourcing:
1. Strategy
A 2014 study of B2B marketers found that companies who have a documented content strategy in place are more likely to consider their efforts to be effective than companies who do not have a documented strategy in place (60 percent vs. 11 percent).
Identify an outsource partner that can deliver a content strategy that is aligned with your business goals and objectives and one that is results driven.
2. Content creation
Effective content is not only aligned with your business goals and objectives, it is also quality content.  Finding an outsource partner that excels at content creation drive profitable customer action.  When it comes to finding the right outsource partner, put a premium on quality content, and remember the adage: you get what you pay for.
3. Social media
It's important to recognize social media as the important business tool it is. As such, you should draw on the expertise of a social media outsourcing partner. These firms know what works and what doesn't because they're active every day on multiple platforms managing accounts for multiple clients. And it's not just posting every now and then. A good social media partner will craft and publish great original content, but they'll also curate great content from relevant sources, like industry partners. Outsourcing these tasks to the pros helps build a strong following and brand awareness for your company.
4. Web development and design
Because your company's website is the primary digital tool of communication with customers and prospects, it literally pays to have web design and development functions performed by a knowledgeable professional. Hosting that capability in-house can be costly, though. Besides saving you thousands on employee compensation, outsource partners can often bring with them niche specialties, for instance, something like usability engineering isn't something you would necessarily get from an in-house generalist.
5. eCommerce
Focus on your core product offerings rather than investing time, money, and resources into building and maintaining an eCommerce platform. Because it receives and stores sensitive information, eCommerce platforms need to be constantly updated and secured. Couple that with product line changes, future business growth, and changing  platform needs, and it quickly becomes a full-time job that comes with a hefty in-house expense.
6. Projects that are outside your scope of expertise
It's possible that projects will come up that require a skill set, like graphic design, which lies outside your company's range of expertise. It's far better to find a partner with this expertise rather than try to create an on-demand capacity to provide the service. Your clients will benefit from stellar work performed by a knowledgeable practitioner and you'll enjoy cost savings by not committing to a long-term employee salary.
You may also like:
---
When it comes to marketing we work with our clients to create and execute strategies that drive success and elevate their brand position within the industry.  Unlike other firms, we align marketing programs with business objectives and, through a data driven approach, are able to deliver results with a targeted ROI. Our team is comprised of strategists, marketing professionals, writers, designers, and experts in social media.  Together we leverage our experience to increase brand awareness, position our clients as thought leaders, drive meaningful engagement with prospects and customers, and help businesses grow.
Archive for Jennifer Hart Yim
---
While the Bring Your Own Device (BYOD) concept has quickly gained traction in the business world, many companies have been slow to address its threat to their data privacy. Even for companies that have recognized the need to prioritize digital security, many have struggled to establish policies that support personal device use while protecting their data. And that's risky given the high level of connectedness many employees now enjoy – with or without formal guidelines or policies. It leaves businesses open to enormous potential for data leaks.
To avoid the potential leak of data, your company should establish policies on the use of personal and mobile devices such as tablets, smart phones, and laptops that may be used to access your company's computing and communications systems. Here are six crucial items to consider as you set out to mitigate the risks of your own BYOD culture.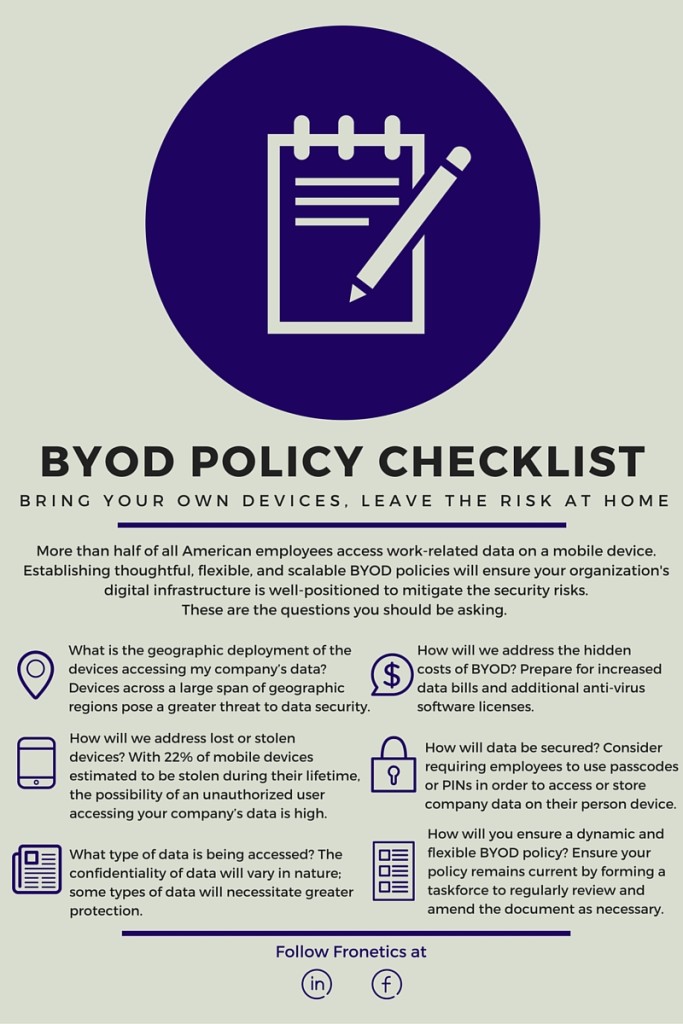 Archive for Jennifer Hart Yim
---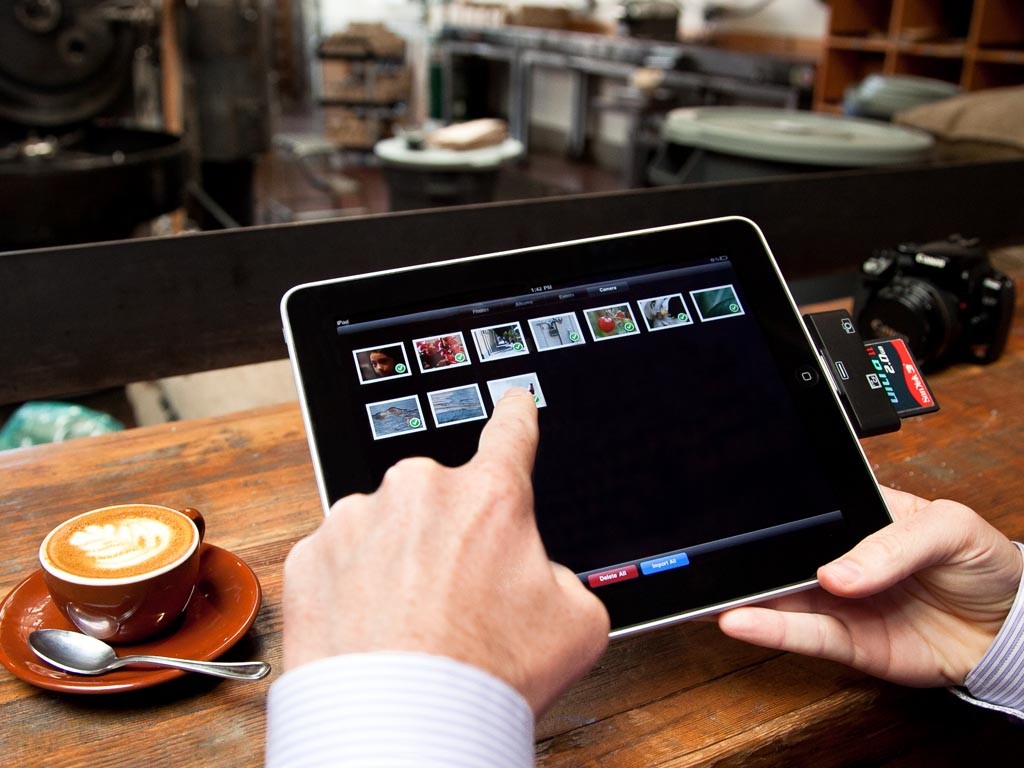 Personal connected devices – our laptops, cell phones, and tablets – are arguably the most complicit tools in the recent blurring of the parameters between personal and work life. And while most businesses have generally recognized the benefit of allowing employees to use their personal devices for work purposes, the bring-your-own-device (BYOD) revolution has certainly thrown a curve ball to those responsible for safeguarding company data. Although corporate finance groups are singing the praises of the trend due to its inherent reduction in costs, it's not all rosy in the BYOD world. That's why it's crucial to format a corporate strategy policy that will protect your company from a potentially dangerous data-leak train wreck.
Here's why: Employees are now widely accessing corporate data from their own computer, a tablet, even their mobile phone. With so many of us bringing more and more smart devices inside our office environments and hooking them to our corporate networks, the potential for data leakage grows exponentially. When anti-virus and digital security software company BitDefender set out to explore the connectedness of typical American workers last year, they found that over half stored work-related data on their personal devices. Shockingly, almost 40 percent of them had nothing in place to prevent unauthorized access to their device. Further, in a study conducted by the University of Glasgow, 63 percent of used smart devices purchased through second-hand stores and eBay-like marketplaces still had data on them. This data included personal information as well as sensitive business information.
The problem is there's no chain of custody in the BYOD world. Think about it. When the corporations owned your cellphone and your PC or laptop, they controlled its issue to you, how you used it, what software you put on it, and when and how it was turned in and destroyed. A solid internal tracking of electronic assets coupled with a solid electronic asset disposal solution provider meant that, for the most part, the corporate digital assets were safe. In the BYOD world, the corporation does not own the IT equipment. Personal smart devices are being linked to corporate IT environments. This mating of personal and professional equipment and data is happening everywhere. Your corporate data is being commingled with secure and non-secure access points to the Web, cloud, etc. Not to mention the fact that those devices metaphorically walk in and out of your office every day, and you have no control.
Companies are scrambling to address this issue in a number of ways. Some have addressed the problem via software solutions at the enterprise level (think Blancco or BlackBerry enterprise), some at the device level (think solutions like Apple Find My Device, etc.), and some at the human resources and legal levels with policies and procedures that prohibit users' use of corporate information. But the truth is, without a chain of custody model incorporated with these solutions, once the corporate data is accessed or downloaded, it's already gone — you just don't know it yet.
The reality is that it's going to take some time for the corporate world to catch up with what some have called the "semi-private information revolution" like the cloud, Facebook, or social media. Secure file sharing, essential for an organization's BYOD guidelines, is one of the best options available. Services are now available to help with cloud encryption and it's changing the way we share and monitor files. Encrypting data is crucial and minimizes the risk of sharing sensitive data and having it tampered with. Rely on your electronic asset disposal provider to help your company develop a strategy and process that is aligned with your corporate information sharing guidelines. Right now, your corporate data is only as safe as the process that you create.
---
Fronetics Strategic Advisors is a leading management consulting firm. Our firm works with companies to identify and execute strategies for growth and value creation.
We advise and work with companies on their most critical issues and opportunities: strategy, marketing, organization, talent acquisition, performance management, and M&A support.