Comprehensive Inbound Campaign with Video Marketing
Our client, a global reverse logistics service provider, had been successful in developing business in one region with hard work and a traditional outbound marketing approach. As the company began to grow and expand reach around the world, however, our client needed to scale marketing efforts through an outsource partner. Enter, Fronetics.
Fronetics developed a comprehensive digital marketing strategy to help our client grow brand awareness, drive organic traffic to the website, and improve lead conversion. The following example campaign utilized video content to reach prospects at various points in the buyer's journey.
Video
We filmed a series of 4 videos for our client to highlight the corporate brand, company culture, proprietary processes, and the global reach of service. Take a look at this one titled, "A Day in the Life of an Asset." It highlights the client's outstanding commitment to process and data security.
In addition to embedding the videos on the website, Fronetics maximized the reach of the content by sharing the video across multiple channels, including email, the blog, social media, and paid advertising.
Blog Content
We distributed the video content through a series of blog posts discussing the videos and the concepts highlighted in each.
Blog posts help attract organic traffic from prospects searching the internet for certain products or services. Including videos in your blog content increases search engine optimization and improves visitor engagement.
Calls to action within the blog post encourage readers to convert and move down the funnel to learn more about the client and its processes.
Social Media
Distributing content through social media channels helps your content will reach your target audience, your customers, and your partners. When a follower engages with your content on social media, it increases the chances that person's network will see your content as well, magnifying its effect.
Fronetics created a series of original posts for each of the client's social media platforms: LinkedIn, Facebook, and Twitter. Some included an embed of the video, while others encouraged followers to visit the client's website to see the full video, driving traffic and the opportunity for conversions.
Paid Advertising
When a competitor folded its ITAD division, Fronetics leaped at the opportunity to reach the competitor's clients and laid-off talent (with their rolodex of prospects). Through a series of LinkedIn Ads, we leveraged the video content we had already created to drive engagement, bolster recruitment efforts, and grow our client's book of business.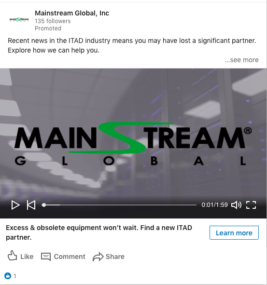 Marketing Emails
Fronetics uses email marketing to nurture leads that have opted in to receive communications from our clients. It helps an organization keep its brand top of mind among prospective customers, so that when they are ready to make a purchase, our client's name easily comes to mind. Email also helps move interested leads further down the purchasing path by inviting them to take certain actions to receive additional value.
In this case, the client's videos served as an excellent lead-nurturing tool. To reach prospects already in the database, we created a series of monthly marketing emails that featured each of the videos. Each email included a GIF of the video, copy that put it in context for the prospects, and a call-to-action with a strategic ask (e.g. scheduling an appointment with a sales specialist).
To see the web version of one of the emails, click here.