Archive for the "Logistics" Category
---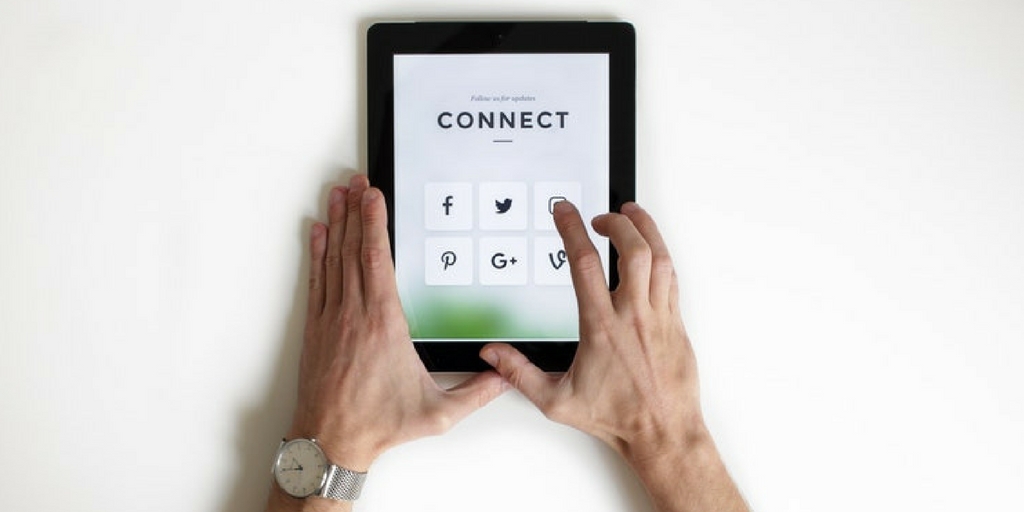 Supply chain leaders should use these 5 social media tips to grow brand awareness and increase your company's profile as an employer.
Like most busy executives, it's hard to find time for your daily tasks and projects without adding social media into the mix. But having a presence on social media is no longer optional for leaders. It's a necessity.
Though branding might not come easily for some supply chain management executives, it is key in today's digital world for positioning yourself as a thought leader in your industry, as well as gaining positive traction as an employer.
We've talked a lot about the supply chain talent gap. Here's where a consistent, informative social media presence could help you and your company.
Millennials in the workforce are more likely to apply for jobs with companies that have a strong social media presence. They want to work for leaders that are openly posting about industry trends, collaborating with competitors, and working toward innovative products and services. What better way to highlight your role as an industry leader than through social media?
Getting started can be intimidating. There are lots of different social media channels. And even more options regarding content within those channels. Do you start a blog? Post on Twitter? Upload videos to YouTube? It's not as easy as just writing a few blog posts and throwing them up on Facebook.
So how do you get started cultivating a social media presence? Here are 5 tips to help any supply chain leader.
Infographic: 5 social media tips for supply chain leaders
[insert infographic]
Don't let the hype of social media deter you. A strong personal brand is a major asset to any executive or aspiring executive. It doesn't have to be a chore. It can become a fun and fulfilling part of your work routine, and it pays off. We hope these tips are useful even if you've been active on social media in a professional capacity before!
Related posts:
Archive for the "Logistics" Category
---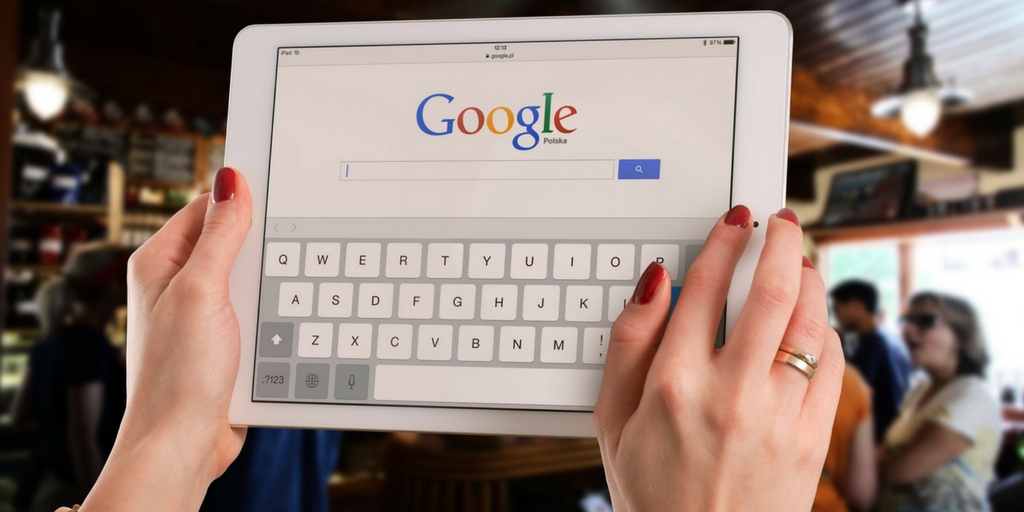 Google implemented a supplier diversity program to drive economic growth for small businesses and help boost Google's innovative culture.
In 2014, Google launched a supplier diversity program to ensure that its staff had the ability to search large and small vendors when purchasing products or services. The tool it developed has helped Google employees create relationships with small businesses, defined as U.S.-based companies with $15 million or less in annual revenue and 50 or fewer employees. Google felt these companies often have a specialized and innovative product or service but might never be discovered simply because of their size.
Getting started
The supplier diversity program was developed out of a company-wide "business inclusion" initiative, in which Google wanted to level the playing field for its current customers and decided to use the same principles for their suppliers. "We realized that if we want small and diverse businesses as customers, we should also want them as suppliers. We wanted to be open for business and have economic impact," says Adrianna Samaniego, senior global program manager of Google's Small Business Supplier Diversity program.
Chris Genteel, head of Business Inclusion at Google, attended the National Minority Supplier Development Council (NMSDC) conference in 2012, and quickly understood the monumental impact Google could have on small businesses. The company had the opportunity to influence economic growth for suppliers that were under-represented online, while also gaining access to inventive products that Google users had yet to discover.
Supplier diversity at work.
Samaniego, Genteel, and Adam Gardner, a site program manager at Google, began devoting 20% of their week to developing a supplier diversity program. Genteel says their objective from the very beginning was "to build out a program that was meaningful and not just symbolic."
The key objectives of the supplier diversity program are defined as:
Create a program and technology tool that is easy to use by suppliers and Googlers alike.
Communication is critical: Google commits to responding to suppliers within two weeks.
Provide benefits for participation: discount on sites, faster payment options for suppliers, and training programs.
Create an advisory board to add in guiding suppliers.
After laying out the foundational elements of the program, Genteel got to work on developing an internal technology tool for Google staff to search small and diverse suppliers with specialized and innovative products or services.
The result
In 2014, Google officially launched the Small Business Supplier Diversity program. The program focuses on two key components: supplier diversity and innovative skills development.
In collaboration with the Tuck School of Business at Dartmouth College, Google continues to discover, rank, and utilize small suppliers, helping them to successfully compete with larger corporations and increase product and service awareness.
"We now want to invest more in education. We're digging into our data to understand where we are compared to our metrics of success. And we're drilling down by community into the community of diverse suppliers to uncover the areas where we can improve," Samaniego says.
Related posts:
Archive for the "Logistics" Category
---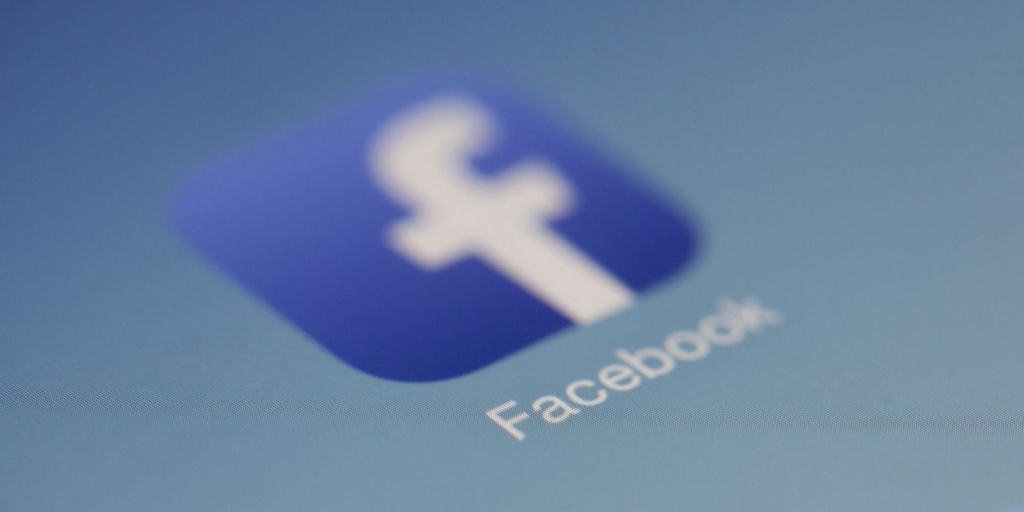 With Facebook's latest Cambridge Analytica scandal, you may be reevaluating if it makes sense to dedicate time and resources to your company's Page. Can users trust Facebook?
Facebook has been in the spotlight quite a bit lately. And we're not sure the saying "all publicity is good publicity" is holding true for the 'Book.
From a user perspective, Facebook has faced widespread criticism in recent months for its role in spreading sensationalist, often inaccurate news stories. And from a corporate standpoint, a number of changes to News Feed deprioritize content from business Pages, making organic reach less attainable.
Next, a scandal.
Then the Cambridge Analytica scandal broke. The New York Times reported that UK-based data firm Cambridge Analytica had obtained personal information without user's knowledge, or more importantly, their consent. Since the report was published, Zuckerberg has profusely apologized for Facebook's involvement in the data breach scandal, even placing a full-page apology ad in three American newspapers.
The fallout.
More and more big-name companies are removing their Facebook Pages — including Sonos, SpaceX and Tesla — as a result of the data breach. The hashtag #deletefacebook has been trending as more and more users remove their personal Facebook pages.
And then there's Facebook's stock. It fell more than 13 percent in the five days of trading following the initial reports. And at the end of March, the stock fell more than 20% off its 52-week high.
What does this mean for your business?
Kettie Laky, director of social media at Fronetics, has been closely following all the latest developments,  as well as monitoring our clients' Facebook analytics data. In this video, she'll let you know whether you can trust Facebook and what you need to do next.
Video: Can we ever trust Facebook again?
Related posts:
Archive for the "Logistics" Category
---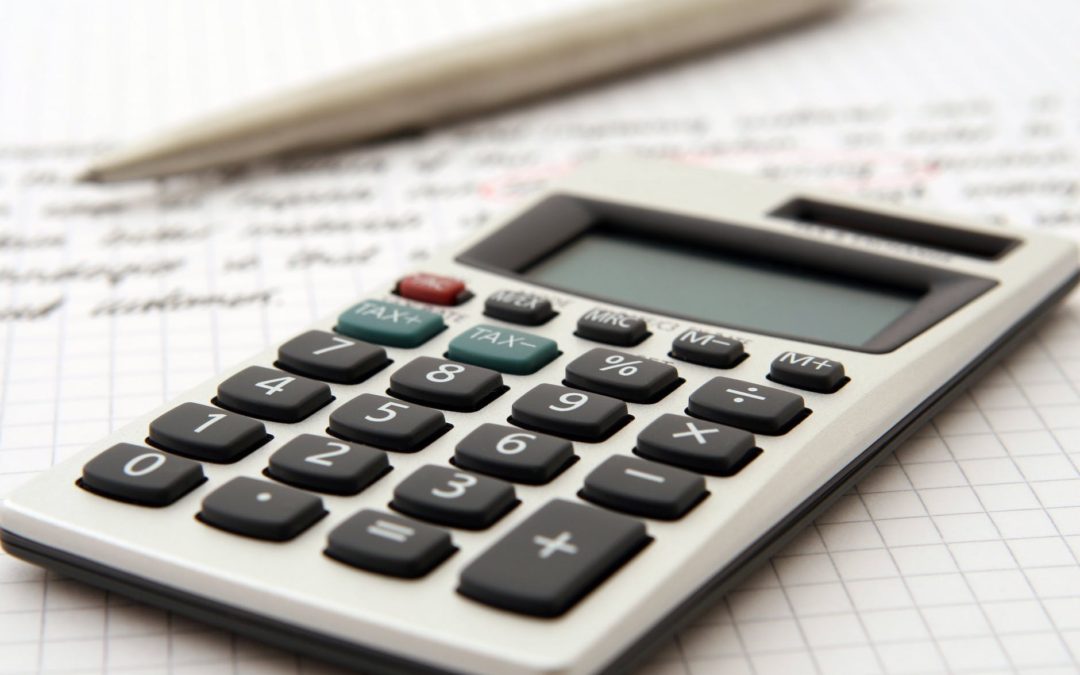 Here are four simple steps to measure your company's content marketing ROI and the success of your content marketing strategy.
Measuring your content marketing ROI gives you valuable insight into what's working (and what's not) with your content marketing strategy. It's important to measure if your efforts are profitable so you know where to put your time and money.
Content marketing ROI is harder to quantify than just tracking how many likes your social media pages have. But tracking certain metrics is important for understanding how your content marketing activities are performing. Keeping a close eye on your ROI allows you to make cost-effective marketing choices and to avoid costly mistakes.
In the article, How to Measure Content Marketing ROI: A Simple 4 Step Process, eCommerce content marketing and SEO consultant Bill Widmer breaks down the simple four-step process that will quickly — and effectively — measure your content marketing ROI.
Every company has specific key performance indicators (KPIs) that help shape their marketing strategy. These KPIs will be the foundation for measuring your content marketing ROI.
Infographic: How to measure your content marketing ROI in four easy steps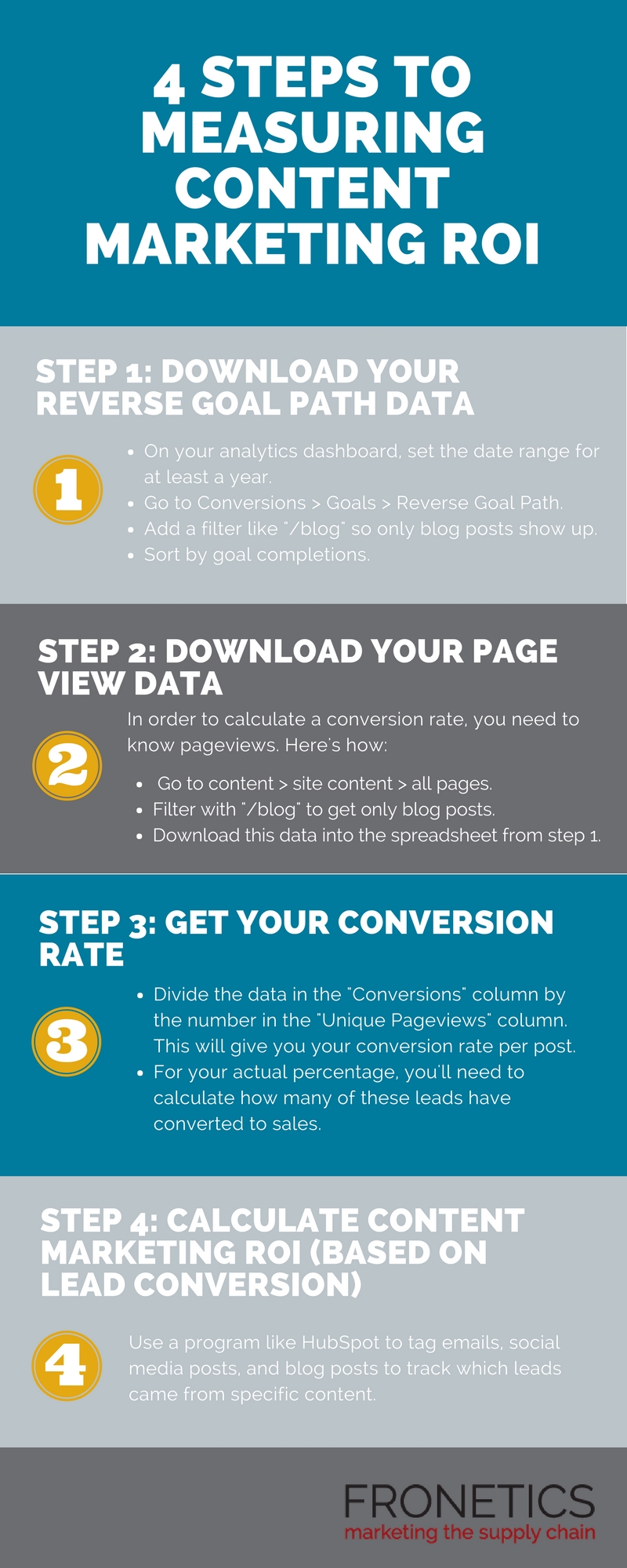 We all want to see the fruits of our labors. Whether launching a new social media campaign or creating new videos for your blog, we look for instantaneous numbers that will affirm we made the right choices. Calculating ROI might take some time – both in the few extra minutes to do the math and the amount of time that needs to pass before all the data is available — but that number will be invaluable to you.
Want to measure your content marketing ROI?
Related posts:
Archive for the "Logistics" Category
---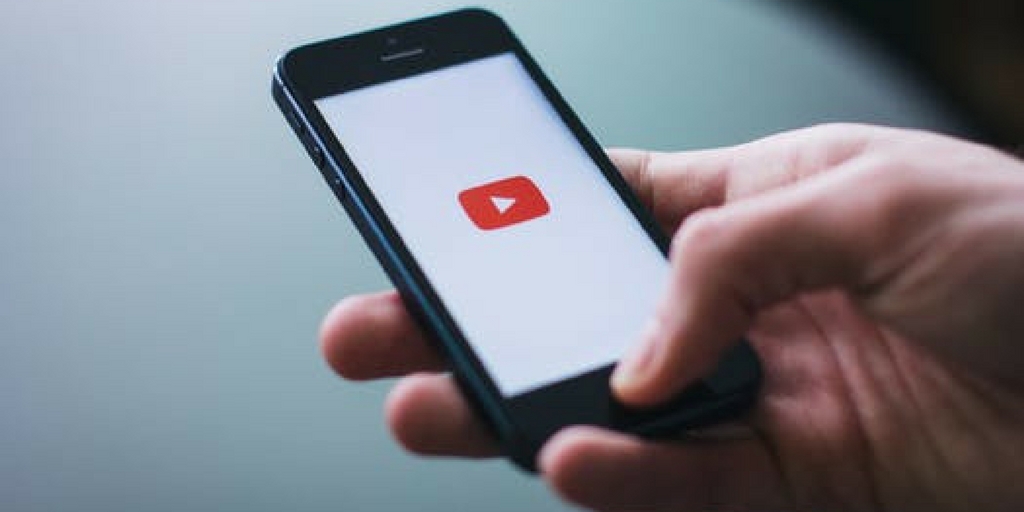 Are you using subtitles as part of your YouTube marketing strategy? You should be, as well as these other tips.
I've written a lot about YouTube and how the supply chain should be leveraging it as a marketing tool. Of course, I don't recommend just creating videos at random and throwing them up on your channel. Like any content or platform, you should approach YouTube strategically.
Here are some tips for optimizing your YouTube marketing strategy.
5 tips to improve your YouTube marketing strategy
1) Do the groundwork.
It may seem like a bigger-than-necessary investment of time at the front end, but doing your research is often "one of the most undervalued aspects of content marketing," according to Forbes contributor AJ Agrawal.
This means getting a grasp of the existing landscape before you publish your content. Look at others in your market, and what works or doesn't work for them.
2) Create "content buckets."
"YouTube marketing really comes down to picking a few key areas where you feel you can deliver true thought leadership, entertainment, or some kind of value, and then mass-producing content that falls within those larger buckets," says Agrawal.
"Buckets" refer to the broader categories your content falls into. For example, if you're looking to create awareness about the role you play in a larger supply chain structure, one bucket might be education. Once you start organizing your thinking this way, generating quality content that falls within your larger strategy gets much easier.
3) Create a standard for your content, and stick to it.
Agrawal points out that one of the most important keys to building a loyal audience is consistency. This can be a challenge when it comes to posting quality video content, since it requires an investment of time and resources.
But it's crucial that you "set the tone from the beginning and let your audience know what to expect," including what kind of content you'll be posting, and how often your audience can expect to hear from you. Once you've done that, stick with the promises you've made.
4) Use subtitles.
People are increasingly watching videos on their mobile devices in public, without the sound on. Taking this small step means that, rather than bypassing your content because they can't hear what's being said, people are paying attention to your videos no matter where they are.
5) Collaborate.
Content marketing at its very core benefits tremendously from collaboration. "One of the most effective ways to get your content disseminated, shared, and ultimately seen is by collaborating with other people who have audiences as well," says Agrawal.
Collaborations are beneficial for everyone involved, particularly when you chose your partners strategically. If they share a similar audience, it boosts exposure for both parties, as well as boosting credibility within your industry.
Tell us about your YouTube marketing strategy.
Related posts:
Archive for the "Logistics" Category
---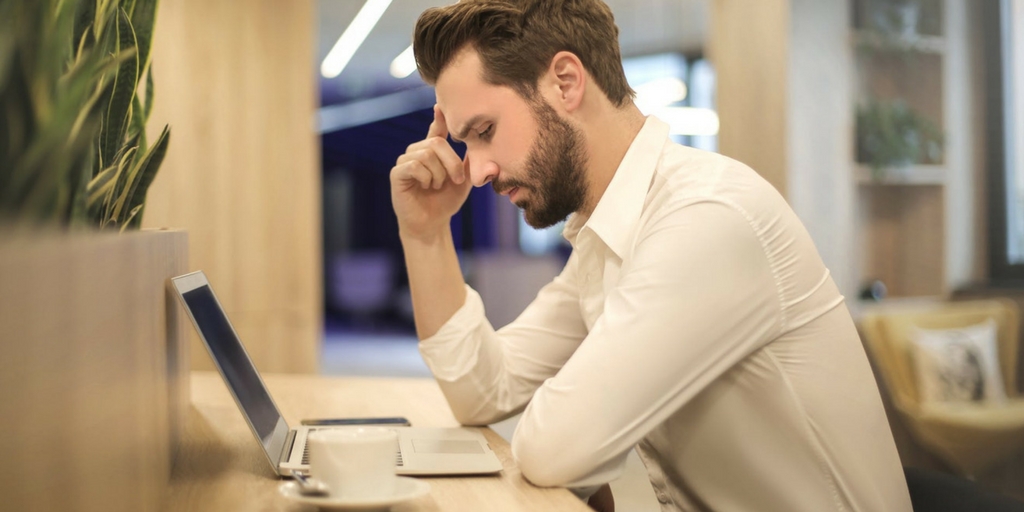 Today's B2B buyer's journey involves more internet research and more social media use.
Technology has completely changed the B2B buyer's journey. The vast amount of information available on the internet has afforded buyers a level of self-sufficiency that renders traditional sales models ineffective. Marketers must leverage the latest trends and technologies to boost their content marketing efforts and turn leads into sales.
According to Demand Gen Report's 2017 B2B Buyer's Survey, respondents cited an increasing reliance on peer reviews as a critical influence in the buying journey. Additionally, personalization is increasingly important: 66% of respondents said it's "very important" that websites "speak directly to the needs of their industry and expertise."
But in these changing times, how do companies keep up with new technologies and growing trends? Marketers now, more than ever, need to incorporate new types of content (video, live-streaming, infographics, etc.), utilize social media, and update content marketing practices to align with company sales goals.
The B2B buyer's journey gives valuable insight into how B2B buyers are finding vendors, engaging with them, and — ultimately — deciding to work with one. Supply chain and logistics businesses need to take the time to understand the buyer's journey, so they know where they need to invest their time and money in order to get buyers' attention.
Infographic: the B2B buyer's journey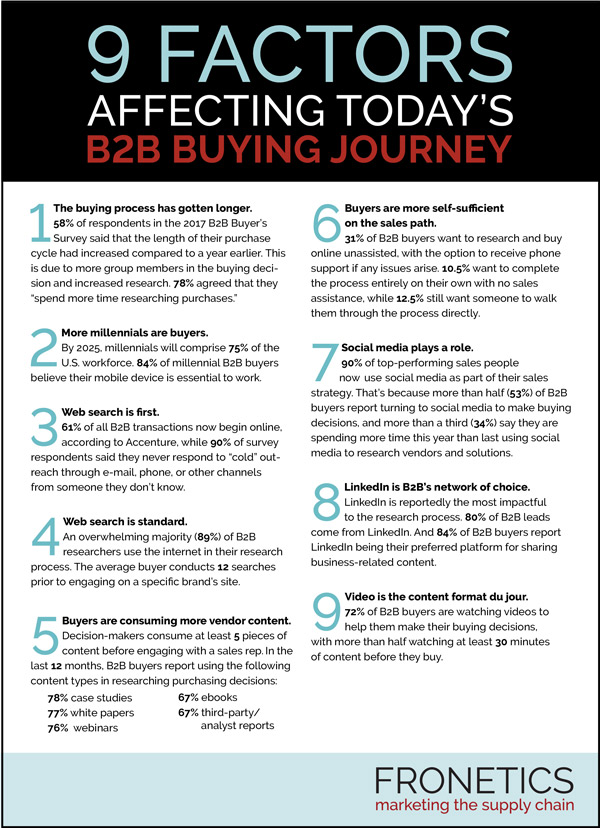 B2B buyers are looking for information and are using that information to make buying decisions.  Companies need to be using social media.  Companies need to be creating and curating quality content. It is equally important, however, for companies to realize that content marketing doesn't shorten the buying process; rather it changes it.
Related posts: