America's CEO Succession Problem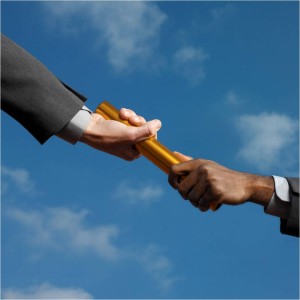 The CEO succession system in most US companies is leaking money to the tune of $112 billion
It's not something that most Boards of Trustees might be thinking about in the present, especially if their leadership is thriving and stable, but the CEO succession system in most U.S. companies is leaking money to the tune of $112 billion. Having a plan is critical for many reasons, and one of the largest is the bottom line. According to strategy + business, "Large companies that underwent forced successions in recent years would have generated, on average, an estimated US$112 billion more in market value in the year before and the year after their turnover if their CEO succession had been the result of planning."
Almost half of the companies with revenue over $500 million had no CEO succession plan, as referenced in The Harvard Business Review based on information from National Association of Corporate Directors. Aside from the enormous chunk of change that can be lost through an unplanned succession such as firing a CEO, illness, or unplanned retirement, the ripple effects through the company can be huge. The sense of stability when leadership changes can make employees question their role in the company. Are they vulnerable to being fired? Which way is the company headed? Are they being valued? If the company can pay out a seven-figure severance package to the outgoing CEO, employees may question their own salaries and press for more money, or become frustrated. Company stability, employee morale, and consumer support may greatly suffer during an unplanned CEO succession process.
Have a Plan
Although forced turnovers have been going down, from 26% of CEOs forced to leave in 2000 to 13% in 2014, CEO succession still needs to be on every company's radar. Every Board of Trustees should be aware that a CEO will need to be replaced at some point. It may happen by force, unexpectedly, or, in the best case, planned well ahead of time amicably. Ignoring the possibilities could be disastrous.
The board should be in control of the succession process long before a departure happens. They should work with HR representatives to ensure that employees are being groomed for leadership positions. This doesn't mean that the employees will necessarily be gunning for the CEO's job, and certainly not promised the position, but that employees feel that growth toward and within a senior team is possible for them. According to strategy + business, "the process should be proactive, with care taken that the company is consistently developing people for bigger jobs. Leadership development models are frequently too concerned with vertical and functional roles, neglecting lateral moves, such as international assignments, that can round out future leaders' experience. Our data shows that CEOs at the highest-performing companies more often have had international experience.
Inside or Outside
Creating a leadership funnel is important whether you look to replace a CEO from inside or outside of your company. In a society that promotes and praises leadership and power, it's hard to remember that not everyone wants to be CEO. Creating a solid senior team will help no matter who the incoming CEO is. If the replacement is found from the outside, having a strong senior team, who may have actually stewarded the hire, can help the new hire acclimate to the organization. If the replacement is from within, the senior team can help support the new tenure, and bolster stakeholder confidence. Many studies show that internal hires are more successful, and a strong senior team is part of that.
Letting a company hemorrhage money never feels good, but letting it happen because the proper succession plan wasn't put into place can feel even worse. Being proactive and realistic is the name of the game when it comes to CEO succession planning.
You may also like:
---
Fronetics Strategic Advisors understands that organization management and talent are critical components of a successful business strategy.  Our firm works with clients to understand and execute on talent acquisition, performance management, learning and development, and succession management. We also work with clients to design and develop roles and responsibilities, on leadership development, mentoring and counseling, and on performance management and compensation strategies.