Archive for Katie Vazeos
---
Social media is changing just about everything about the way brands market themselves — including packaging design.
---
Highlights:
Packaging is a valuable content channel.
Brands need to make packaging design decisions with an eye to how they read in thumbnail images.
Use scalable imagery and optimize form function, color pallet, and font for user-generated social media content.
---
Social media has had an impact on just about everything in our lives, and the packaging industry is no exception. Have you ever considered that packaging is a form of content? In fact, the packaging design of goods is yet another opportunity for the delivery of branded content that engages buyers with brands.
The packaging design of goods is yet another opportunity for the delivery of branded content that engages buyers with brands.
Click To Tweet
Furthermore, in this environment where the lines between the digital and material worlds are increasingly blurred, savvy marketers are making sure that packaging aligns with online branded content, creating a cohesive consumer experience. As Mark Hewitt of SGK puts it, "By using the pack as media, brands can create a long-term content journey that builds over time."
These days, social media is one of the biggest influencers in brands' packaging design, as marketers continue to harness the power of instantly identifiable packaging.
Three ways social media is shaping the packaging industry
The beauty industry is just one example of where social media is revolutionizing the way marketers are conceiving of packaging design. This is an industry where aesthetic appeal has long been a big part of how beauty products were packaged, but brands have shifted their perspective in light of social media's impact.
Says beauty branding and product design consultant Rinat Aruh, "We used to use the lens of: How do we design to create an impact on shelves? But now, we design for the thumbnail, which really changes some of the choices we make."
So how are brands adapting their packaging? Paul Nowak, senior director of sales strategy and business development at QuadPackaging, has identified these three key factors.
1)      Scalable imagery
We live in a mobile world. Images on social media are overwhelmingly viewed on mobile devices, and it's crucial for designers to take this into account when making packaging decisions. Designs need to grab attention from the thumbnail, as Aruh alluded to. "This means that before designers finalize the packaging form and the brand design of the creative components, they need to add a step that tests the image on social media platforms and views them on a smartphone, not a desktop," says Nowak.
2)      Form function
Packaging designers have traditionally taken into account form in making design decision. At every phase of the supply chain, it needs to safeguard the product and express the brand and function. But when you put social media into the equation, form decisions take on a new dimension, as many consumer products are exclusively recognizable in social media posts by their packaging.
Nowak uses the example of consumer products like hand lotion. The decision to package the product in "a small tube, a large pump, or an elegant jar all convey different aspects of the brand experience and function of the packaging."
3)      Color pallet and font
As with form function, color and font decisions have always been key factors for packaging design. But these days, decisions about these design elements aren't about what catches the eye on a shelf or even on a brand website.
Brands need to make decisions about color and font with an eye toward how they play on social media. This often means a simpler approach, making packaging clean and easily identifiable, even from a thumbnail. "Forward-thinking designers will add a social media test in their design phase to assure brand recognition in all media channels," says Nowak.
What does the future hold?
If we know one thing about social media and how it impacts the marketing landscape, it's that change is going to be pretty much constant. Brands need to continue approaching packaging as a valuable media channel and an opportunity to engage with consumers.
In addition to optimizing packaging for the user-generated content on social media, we're seeing a rise of "connected" packaging. From Snap and Facebook codes, savvy marketers are recognizing the power of packaging design as nexus of the digital and material worlds.
Related posts:
Archive for Katie Vazeos
---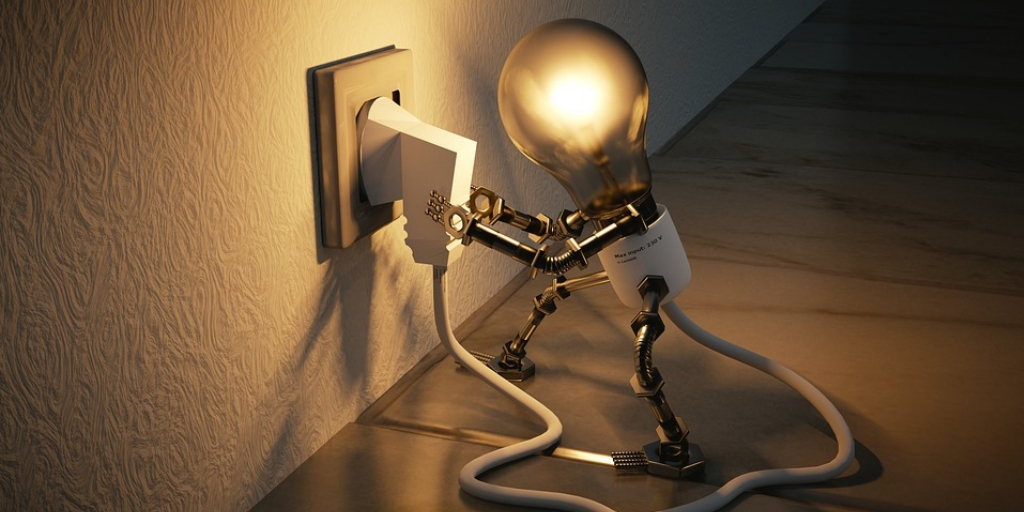 These 6 robotics blogs are our favorite reads for gathering information, analyzing issues, and staying current in an industry that is rapidly changing every day.
---
Highlights:
Follow these 6 blogs for the latest on the robotics industry.
Featuring a variety of expert perspectives analyzing issues and trends
Get everything from the big headlines to niche opinion pieces
---
It's not easy keeping pace with the latest developments in robotics, an industry where changes are happening swiftly and often. Not only that, sorting through masses of media sites and conversations to find informed, up-to-date coverage of these changes can be utterly overwhelming.
Luckily, there are places where you can find the kind of information and analysis you need. These 6 robotics blogs are on our reading list — and we think they should be on yours, too. Here, you'll find blogs that focus completely on covering news, trends, and issues within the robotics industry.
Top 6 robotics blogs for industry news, trends, and insights
1.      Robohub
Robohub covers all things robotics, drawing from a dedicated global community and featuring many different perspectives including robotics research, start-ups, business, and education. It's one of the more prolific blogs in the industry, sometimes publishing several posts per day.
If you're looking for timely information presented thoughtfully by knowledgeable people in the industry, start with Robohub.
Click To Tweet
Robohub describes itself as "more than just an online robotics news site." If you're looking for timely information presented thoughtfully by knowledgeable people in the industry, start with Robohub.
2.      Robotics.org
The Robotics Industries Association's online presence, Robotics.org, has both a news stream, which releases the latest from the robotics industry, and an Industry Insights stream, where you can find expert analysis of the latest issues. The site posts frequently and is a great go-to for the big news in the industry, as well as some insightful analysis.
3.      RoboGlobal News
When you're looking for a quick rundown of the latest headlines in robotics, as well as occasional posts offering deeper insights, RoboGlobal is a great resource. It explores "the rapidly evolving universe of Robotics, Automation, and Artificial Intelligence" from an investment perspective, making it a great resource for businesses. RoboGlobal tracks trends in robotics stocks, while the News blog examines overall trends in the industry.
4.      Robotics Business Review
The Robotics Business Review describes itself as "the largest, most comprehensive online robotics news and information resource." It generally posts several times a day, about all aspects of the business of robotics — including AI, manufacturing, the supply chain, drones, health care, CRO, and more. The posts that are publicly viewable are only short abstracts — to see complete articles, you must pay a yearly membership fee.
5.      The Robot Report
Headed up by roboticist Frank Tobe, The Robot Report follows the business of robotics and reports regularly on developments from across the industry, including academia and research, technologies, design and development, markets, and investments. Tobe is also the co-founder of Robo-Stox, which is now Robo-Global, a tracking index for the robotics industry. He brings this perspective to the articles he curates and authors.
6.      Robotics Industry News, Applications, and Trends at Robotiq
Robotiq posts news stories weekly about the robotics industry. The majority of their coverage focuses on collaborative robots and the technical issues surrounding robotic grasping, force sensing, and robot vision — since they manufacture grippers, force sensors, and cameras. However, they additionally post about robotic fundamentals and offer industry insights.
Which robotics blogs are you following?
Related posts:
Archive for Katie Vazeos
---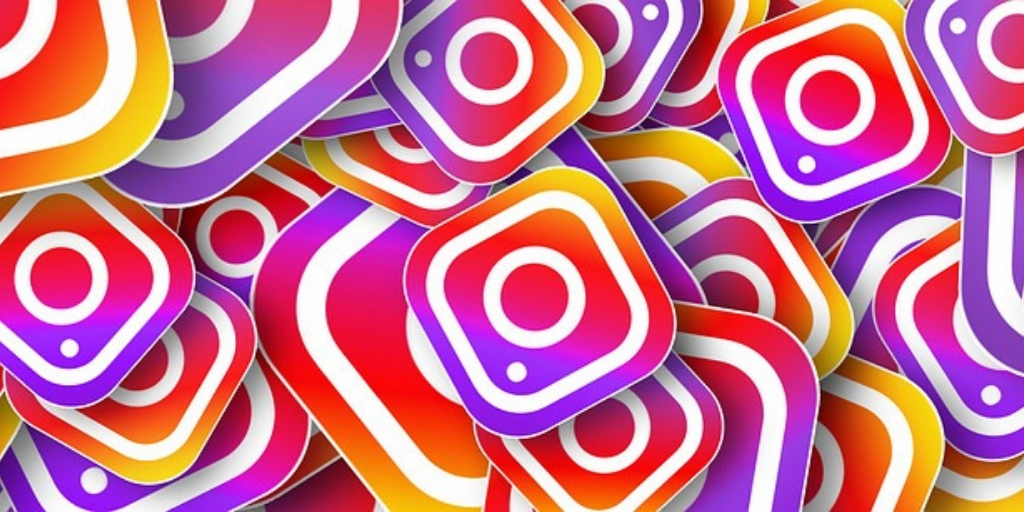 Need some Instagram for B2B marketing inspiration? These ten brands are getting it right.
---
Highlights
Instagram is a great opportunity for B2B businesses.
Avoiding blatant sales or advertising pushes is key.
Successful accounts engage users with interesting visuals and/or provide them with value through informative content.
---
Instagram now boasts over 1 billion monthly active users, making it one of the most popular social media platforms out there. It's a tremendous opportunity for businesses. In fact, recent research has shown that 66% of brands now use Instagram.
But many B2B marketers are still struggling to find their footing on this highly visual platform. Since we could all use a little inspiration now and then, here are 10 brands that are crushing Instagram for B2B marketing — and what we like about their presence.
10 brands that are nailing Instagram for B2B marketing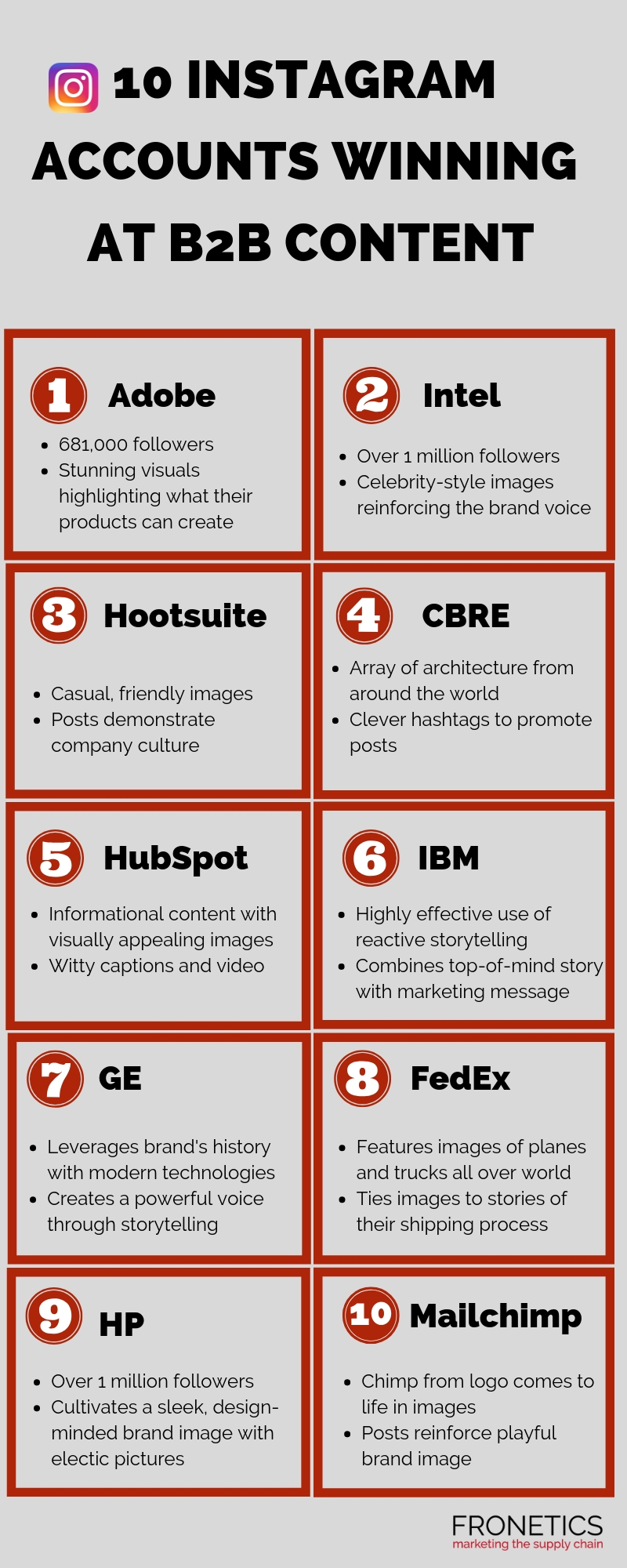 1)      Adobe
With 681k followers, Adobe (@adobe) is a fortunate brand when it comes to Instagram in that its product naturally lends itself to the visual medium. Its account boasts some truly stunning visuals, highlighting what Adobe products can create.
2)      Intel
The tech giant Intel (@intel) cultivates a celebrity-style image, giving its over-a-million followers an inside glimpse into big events the brand plays a role in, like the X Games, Grammys, and glitzy tech conferences. Each of the carefully curated images reinforces the brand's voice, and captions do a great job of detailing exactly what the brand does in the tech space.
3)      Hootsuite
Social media management dashboard Hootsuite (@hootsuite) does a fantastic job of showing brands their social media know-how, right in its Instagram profile. The company cultivates a casual, friendly image and posts content that demonstrates company culture. From team building photos to office dogs, Hootsuite makes followers feel like they're getting to know the brand.
4)      CBRE
Global commercial real estate firm CBRE (@cbre) is a phenomenal example of finding beauty within the context of its operations. The brand's Instagram feed features a stunning array of architecture from around the world, with clever use of hashtags.
5)      HubSpot
Here's a company getting content Instagram for B2B marketing right. HubSpot (@hubspot) consistently provides value to followers, posting informational content. Rather than letting it get boring, the brand keeps content visually appealing and makes clever use of captioning and video.
6)      IBM
Tech juggernaut IBM (@ibm) has made highly effective use of reactive storytelling on Instagram. This method of storytelling combines a top-of-mind story or idea with a compelling marketing message. IBM uses it during popular or inspiring events, demonstrating how it's making use of the brand's technology.
7)      General Electric
It's a household name brand, and it's over a century old. General Electric's (@generalelectric) Instagram presences does a great job of leveraging the brand's history, highlighting its involvement with important developments in defense, aviation, and technology. It's a great example of creating a powerful voice from a brand through storytelling and tapping into the audience's nostalgia.
8)      FedEx
FedEx (@fedex) is a prime example of a B2B brand that makes the absolute most of what it does to create a compelling story for its Instagram content. The account features photos of airplanes and trucks all over the world, telling the story of how the carrier cares for and ships products in its care.
9)      HP
With over a million followers HP (@hp) cultivates a sleek, design-minded brand image on Instagram. It capitalizes on subtlety and style, with eclectic images that never feel overtly promotional but that highlight the brand's innovation.
10)  Mailchimp
Email marketing company Mailchimp (@mailchip) truly gets the most out of its whimsical logo. Its Instagram content has given the playful chimp logo life and transformed him into a personality and voice for the brand. The image is quirky and fun, and Mailchimp's Instagram presence reinforces and capitalizes on that.
What companies do you think are doing Instagram for B2B marketing right?
Related posts:
Archive for Katie Vazeos
---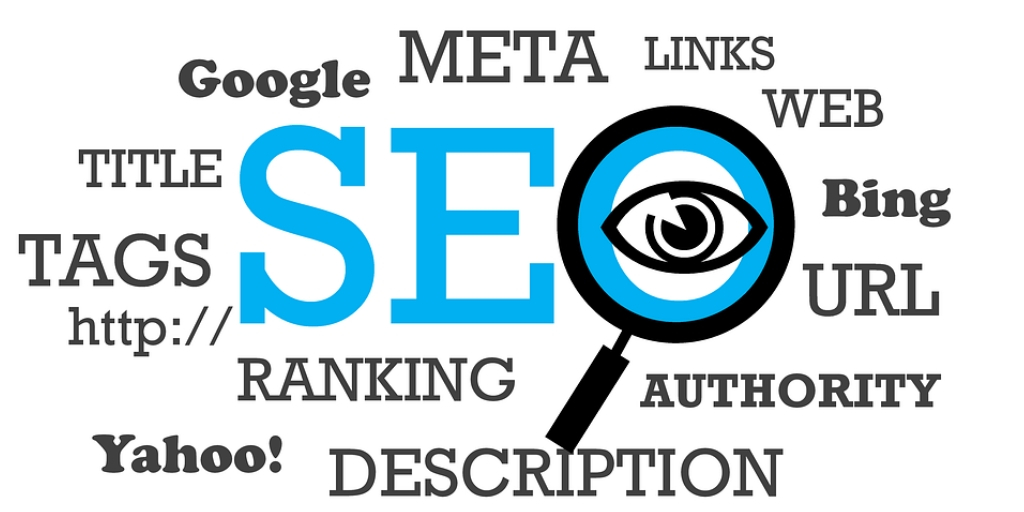 Search engines are constantly changing, but these 5 tips will ensure that supply chain marketers can boost SEO in 2019. 
---
Highlights
People are changing how they search, and search engines are adapting accordingly.
Simple changes to the structure of your site can have a big impact on your search engine rankings.
Sites rich in quality content, like blogs and video, are poised to rank high for relevant search queries.
---
If there's one constant when it comes to writing to boost Search Engine Optimization (SEO), it's change. As users change the way they search online, search engines are continually adapting their algorithms to meet their needs. While it's easy to get overwhelmed, it's important for supply chain marketers to stay up-to-date and adapt their content strategy to boost SEO.
The year is just getting into full swing, and it's a great time for savvy marketers to look ahead and make strategic decisions for SEO in 2019. These five tips will help you get ahead of the curve.
5 ways to boost SEO in 2019
1)      Cluster content
Gone are the days of keyword rankings. Rather than prioritizing keyword focus, search engines have shifted to rewarding sites that produce strong content and arrange it in focused, niche topics.
Cluster content, a method of on-site SEO, might sound daunting. But it doesn't require reinventing the wheel, just changing the structure of your site. For a detailed look at topic clusters and pillar content, check out part three of our four part series on writing for SEO.
We'll give you the short version here: Select several core topics that most closely align with your brand, and reflect the knowledge you have to share. Evaluate your existing content, and categorize it based on which core topic or topics it falls under. Going forward, keep these core topics top of mind when planning and creating content. Next, arrange your site to reflect core topics with content clustered and linked from pillar pages.
2)      Use header tags
As they become more and more sophisticated, search engines increasingly mirror human preferences. It doesn't take an expert to tell you that text is more accessible to the eye when broken up by relevant subheadings — and search engines are no different. Headings make your text easier to skim and allow search engines to pick out content relevant to search queries.
Subheadings make your site more visually appealing, orienting readers and providing structure within your content. Remember that you're creating headings for the dual purpose of guiding readers and optimizing for search engines. For this reason, stick to headings that are short and informative, reflecting the content below them, rather than teasing your readers with click-baity phrases.
Stick to headings that are short and informative, reflecting the content below them, rather than teasing your readers with click-baity phrases.
Click To Tweet
3)      Blog
This one is evergreen. We've been writing for years about how blogging is crucial for supply chain companies, for all kinds of reasons — not the least of which is SEO. If increased lead generation and site engagement isn't reason enough, you should know that blogging is one of the best ways to boost SEO.
A blog is your space for high-quality content that's fresh, well-researched, and relevant. If you're choosing your topics based on the needs and preferences of your target audience, chances are, you're creating content that is perfectly aligned to search engine queries.
4)      Make sure your page speed is high
Page speed is crucial for boosting SEO. If your page is loading slowly, Google logs it, and your ranking suffers. Not only that, visitors who do click on your site will be frustrated and turn away.
In fact, research shows that 40% of visitors will abandon sites where the page takes longer than three seconds to load.
One of the best ways to improve page speed is to switch to HTTP/2. If you haven't already, switching your site from HTTP/1.1 (which has been the norm since 1999) is crucial. HTTP/2 was first published in 2015, with the goal establishing a faster, more secure internet. Search Engine Journal has published this great guide to HTTP/2, where you can learn more about the benefits, and how to switch.
5)      Video
We've been talking about the benefits of video for a while now. Having video on your landing page will robustly improve your SEO. Video increases conversion rates, improves bounce rates, and boosts overall time on sites.
Search engines use bounce rate to rank pages — a low bounce rate and high user retention rate are indicators of strong content and high relevance to your target audience. Consequently, Google is strongly emphasizing these metrics in its ranking algorithm. Video keeps users on your site better than just about anything else and is therefore one of the most effective ways to boost SEO.
Related posts:
Archive for Katie Vazeos
---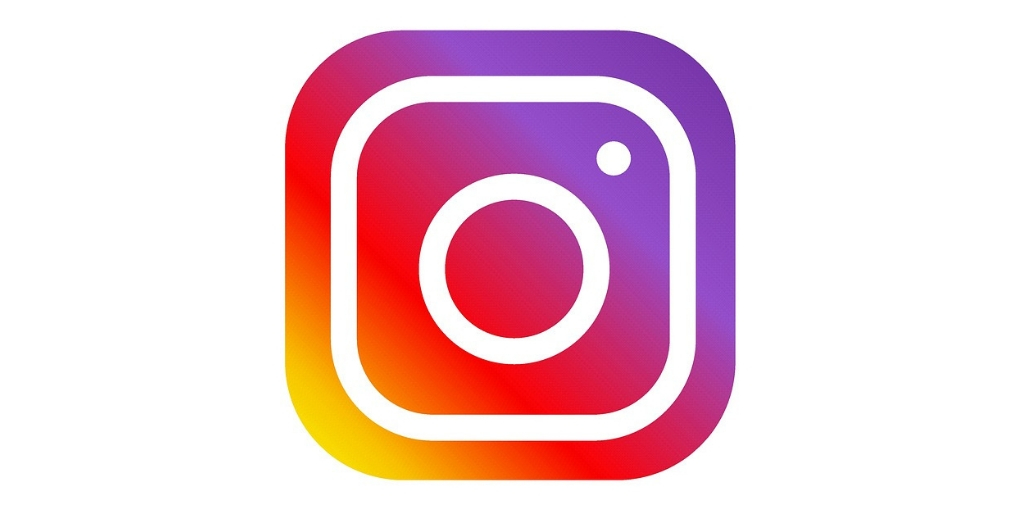 Looking to boost followers on Instagram? These tips will help supply chain marketers grow their following, build brand awareness, and nurture a loyal audience base.
---
Highlights
Instagram has over 500 million daily users.
Fake accounts won't help in the long run.
Growing authentic followers requires commitment and strategy.
---
While it's true that Facebook is a favorite for B2B marketing, don't overlook Instagram. Over 500 million users browse the app daily — some of the most engaged audiences on the web. This is absolutely a powerful resource for supply chain marketers, and if you aren't already, it's time you start tapping into it.
But as with all social media platforms, there's a right and a wrong way to go about using it. When it comes to Instagram, getting the most out of the platform has a lot to do with boosting followership.
Keep in mind that recent studies have shown that roughly 48 million Instagram users are fake. Inflating your audience with fake followers won't serve you well.
Boosting engagement and growing your following takes time and strategy. The 10 tips in our infographic below will help you get the most out of Instagram, building an authentic, engaged audience.
10 tips to boost followers on Instagram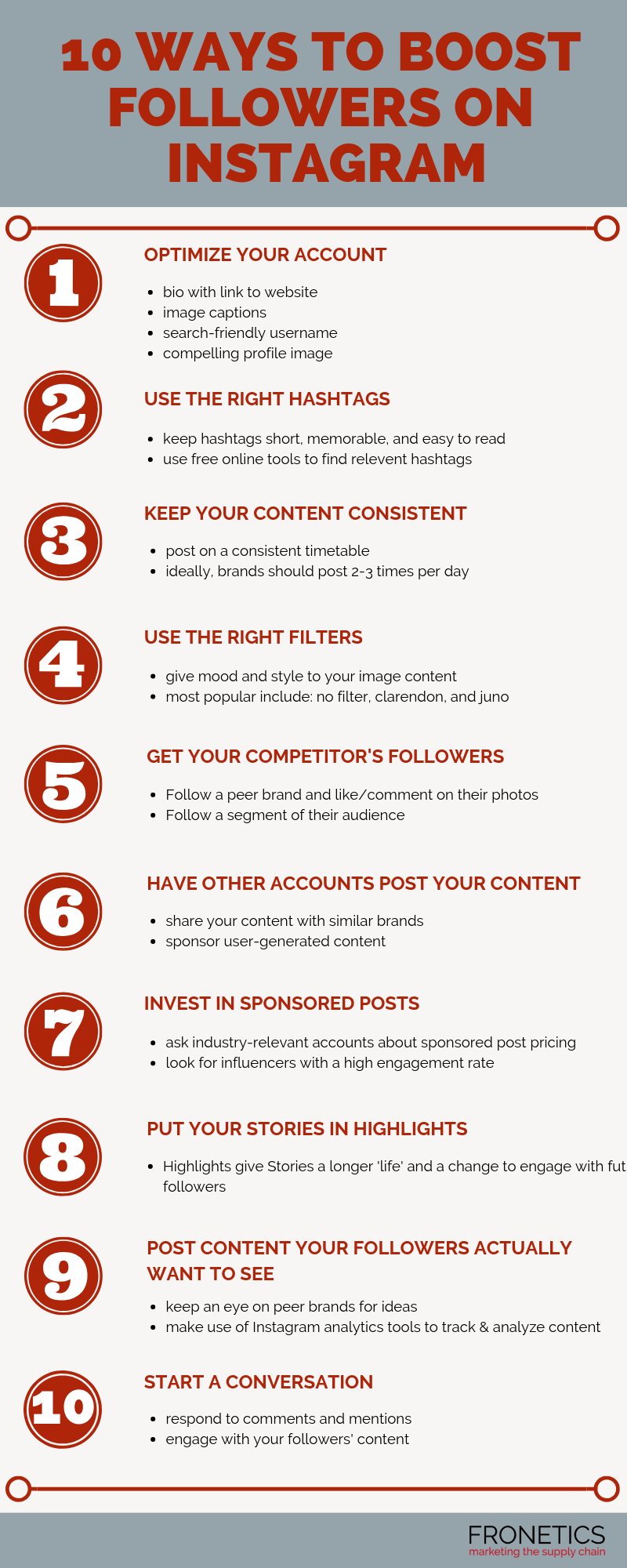 1)      Optimize your account
Before we get to anything fancy, take a step back and make sure your Instagram account is fully optimized. This means you need:
a bio with a link to marketing or product pages related to a specific keyword or hashtag
image captions, which can reference the link in your bio
a search-friendly username
a compelling profile image that reflects your brand
2)      Use the right hashtags
One of the most effective ways to grow your Instagram following is to use hashtags effectively. Since Instagram gives users the ability to follow hashtags that interest them, and they function as links to other relevant content, choosing the right hashtags is the ideal way to reach and engage your target audience.
Keep an eye on accounts of peer brands to stay up to date with the best hashtags to be using. The most effective hashtags are short, memorable, and easy to read. You can also use a free online tool like InconoSquare or Websta to find relevant hashtags for the supply chain and logistics industries.
3)      Keep your content consistent
Posting on a consistent timetable is crucial to maintaining an active following. Posting irregularly means you risk your followers forgetting about you. And posting all at once can annoy and drive followers away. Ideally, brands should post 2-3 times a day. For more, check out our guide to when to post on social media.
4)      Use the right filters
We all know that playing with filters is fun. These lighting and color presets offered by Instagram have the potential to create mood and style in your image content. According to Iconosquare, these 10 filters are currently the most popular on Instagram. And it turns out that the filters you choose really do have an impact on engagement.
Normal (No Filter)
Clarendon
Juno
Lark
Ludwig
Gingham
Valencia
X-Pro II
Lo-fi
Amaro
5)      Get your competitors' followers
Maybe it sounds like a dirty trick, but hear us out! Users who have already shown an interest in similar brands to yours are an ideal audience base. Engaging with them is a great way to grow your own following. Identify a peer brand with a healthy Instagram following; follow a segment of their audience; and like or comment on their photos. Keep track of how many users follow your brand back.
6)      Have other accounts post your content
Operating on the principle that followers of similar accounts to yours are an ideal audience base, getting these accounts to post your content is a great way to boost your followership. One way to do this is to sponsor user-generated content to get your brand in customers' feeds. For example, hold a photo contest related to your brand, encouraging followers to post and caption your content.
7)      Invest in sponsored posts and product reviews
Optimizing your account and following Instagram best practices will go a long way toward getting authentic followers. But to really boost your followers on Instagram, it pays to take advantage of influencer marketing on Instagram. Create a list of large accounts in your industry, follow them, reach out to their marketing team, and ask about sponsored post pricing. Be on the lookout for influencers with a high engagement rate relative to number of followers.
8)      Put your Stories in Highlights
In addition to its Stories feature, Instagram now lets users create a featured group of "Highlights" in various categories on their profile. Stories have only a 24-hour lifespan, so featuring your most effective Stories clips in Highlights gives them a second life and a chance to engage future followers. One of the best features of Stories and Highlights is that they allow brands to view and analyze how users have viewed and interacted with their content.
9)      Post content your followers actually want to see
This one may sound painfully obvious, but it's harder than it looks. Because brands need to publish content consistently to maintain an active Instagram following, it can be extremely difficult to generate fresh, interesting content consistently. There's no easy trick to this one. Keep an eye on peer brands, and make use of Instagram analytics tools to track, analyze, and benchmark Instagram content.
10)  Start a conversation
It's easy to forget that the fundamental benefit of social media is that it's social. Users want to be part of a conversation. Encourage your followers to interact with you on all your social media platforms, including Instagram. This means responding to comments and brand mentions, as well as engaging with your followers' content.
Final thoughts
Instagram is an extremely effective tool for supply chain marketers. These 10 tips to boost followers on Instagram will help you create and nurture a loyal, engaged audience base. In turn, an effective Instagram presence has the potential to grow brand awareness, improve your reputation, and generate qualified leads.
Related posts: