Infographic: 10 Ways to Boost Followers on Instagram
Looking to boost followers on Instagram? These tips will help supply chain marketers grow their following, build brand awareness, and nurture a loyal audience base.
---
Highlights
Instagram has over 500 million daily users.
Fake accounts won't help in the long run.
Growing authentic followers requires commitment and strategy.
---
While it's true that Facebook is a favorite for B2B marketing, don't overlook Instagram. Over 500 million users browse the app daily — some of the most engaged audiences on the web. This is absolutely a powerful resource for supply chain marketers, and if you aren't already, it's time you start tapping into it.
But as with all social media platforms, there's a right and a wrong way to go about using it. When it comes to Instagram, getting the most out of the platform has a lot to do with boosting followership.
Keep in mind that recent studies have shown that roughly 48 million Instagram users are fake. Inflating your audience with fake followers won't serve you well.
Boosting engagement and growing your following takes time and strategy. The 10 tips in our infographic below will help you get the most out of Instagram, building an authentic, engaged audience.
10 tips to boost followers on Instagram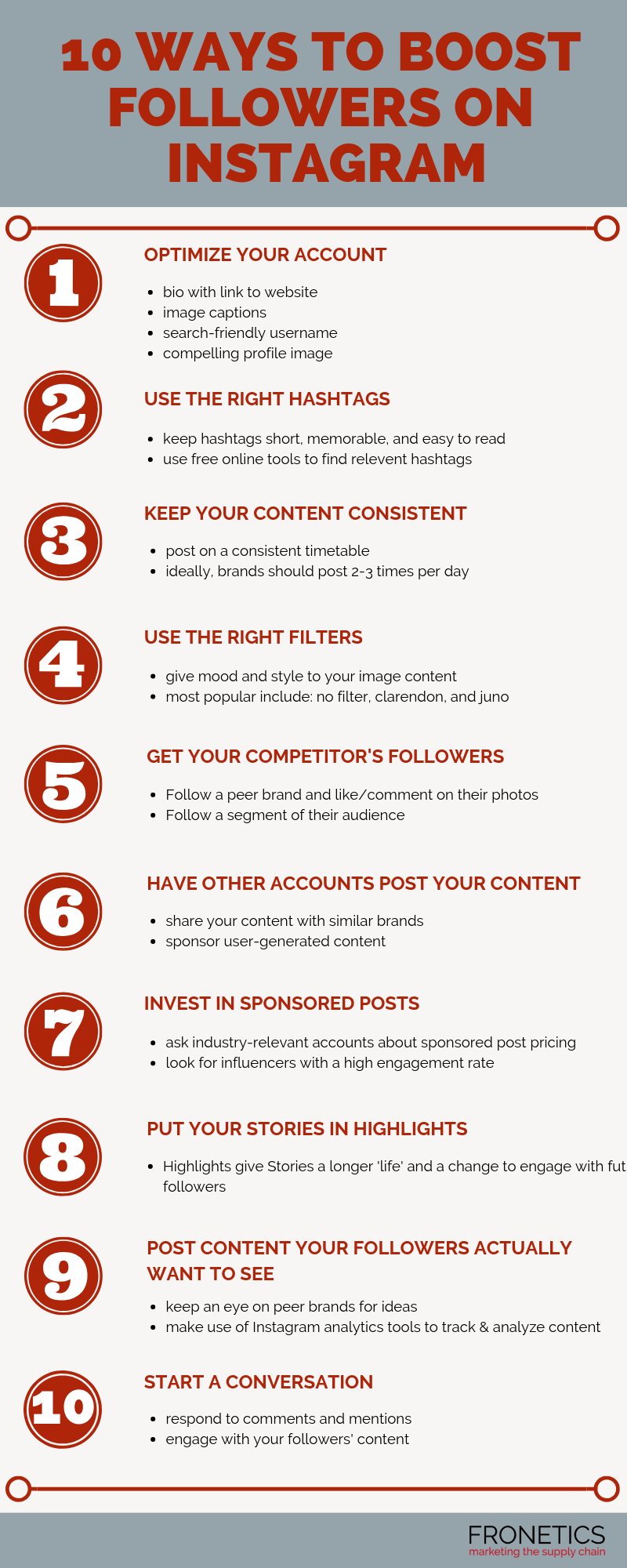 1)      Optimize your account
Before we get to anything fancy, take a step back and make sure your Instagram account is fully optimized. This means you need:
a bio with a link to marketing or product pages related to a specific keyword or hashtag
image captions, which can reference the link in your bio
a search-friendly username
a compelling profile image that reflects your brand
2)      Use the right hashtags
One of the most effective ways to grow your Instagram following is to use hashtags effectively. Since Instagram gives users the ability to follow hashtags that interest them, and they function as links to other relevant content, choosing the right hashtags is the ideal way to reach and engage your target audience.
Keep an eye on accounts of peer brands to stay up to date with the best hashtags to be using. The most effective hashtags are short, memorable, and easy to read. You can also use a free online tool like InconoSquare or Websta to find relevant hashtags for the supply chain and logistics industries.
3)      Keep your content consistent
Posting on a consistent timetable is crucial to maintaining an active following. Posting irregularly means you risk your followers forgetting about you. And posting all at once can annoy and drive followers away. Ideally, brands should post 2-3 times a day. For more, check out our guide to when to post on social media.
4)      Use the right filters
We all know that playing with filters is fun. These lighting and color presets offered by Instagram have the potential to create mood and style in your image content. According to Iconosquare, these 10 filters are currently the most popular on Instagram. And it turns out that the filters you choose really do have an impact on engagement.
Normal (No Filter)
Clarendon
Juno
Lark
Ludwig
Gingham
Valencia
X-Pro II
Lo-fi
Amaro
5)      Get your competitors' followers
Maybe it sounds like a dirty trick, but hear us out! Users who have already shown an interest in similar brands to yours are an ideal audience base. Engaging with them is a great way to grow your own following. Identify a peer brand with a healthy Instagram following; follow a segment of their audience; and like or comment on their photos. Keep track of how many users follow your brand back.
6)      Have other accounts post your content
Operating on the principle that followers of similar accounts to yours are an ideal audience base, getting these accounts to post your content is a great way to boost your followership. One way to do this is to sponsor user-generated content to get your brand in customers' feeds. For example, hold a photo contest related to your brand, encouraging followers to post and caption your content.
7)      Invest in sponsored posts and product reviews
Optimizing your account and following Instagram best practices will go a long way toward getting authentic followers. But to really boost your followers on Instagram, it pays to take advantage of influencer marketing on Instagram. Create a list of large accounts in your industry, follow them, reach out to their marketing team, and ask about sponsored post pricing. Be on the lookout for influencers with a high engagement rate relative to number of followers.
8)      Put your Stories in Highlights
In addition to its Stories feature, Instagram now lets users create a featured group of "Highlights" in various categories on their profile. Stories have only a 24-hour lifespan, so featuring your most effective Stories clips in Highlights gives them a second life and a chance to engage future followers. One of the best features of Stories and Highlights is that they allow brands to view and analyze how users have viewed and interacted with their content.
9)      Post content your followers actually want to see
This one may sound painfully obvious, but it's harder than it looks. Because brands need to publish content consistently to maintain an active Instagram following, it can be extremely difficult to generate fresh, interesting content consistently. There's no easy trick to this one. Keep an eye on peer brands, and make use of Instagram analytics tools to track, analyze, and benchmark Instagram content.
10)  Start a conversation
It's easy to forget that the fundamental benefit of social media is that it's social. Users want to be part of a conversation. Encourage your followers to interact with you on all your social media platforms, including Instagram. This means responding to comments and brand mentions, as well as engaging with your followers' content.
Final thoughts
Instagram is an extremely effective tool for supply chain marketers. These 10 tips to boost followers on Instagram will help you create and nurture a loyal, engaged audience base. In turn, an effective Instagram presence has the potential to grow brand awareness, improve your reputation, and generate qualified leads.
Related posts: