Posts Tagged "infographics"
---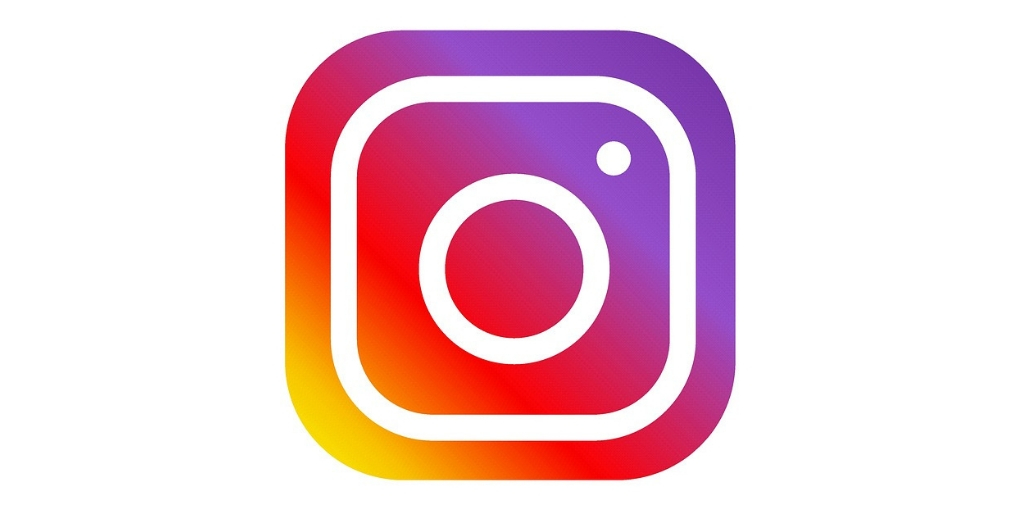 Looking to boost followers on Instagram? These tips will help supply chain marketers grow their following, build brand awareness, and nurture a loyal audience base.
---
Highlights
Instagram has over 500 million daily users.
Fake accounts won't help in the long run.
Growing authentic followers requires commitment and strategy.
---
While it's true that Facebook is a favorite for B2B marketing, don't overlook Instagram. Over 500 million users browse the app daily — some of the most engaged audiences on the web. This is absolutely a powerful resource for supply chain marketers, and if you aren't already, it's time you start tapping into it.
But as with all social media platforms, there's a right and a wrong way to go about using it. When it comes to Instagram, getting the most out of the platform has a lot to do with boosting followership.
Keep in mind that recent studies have shown that roughly 48 million Instagram users are fake. Inflating your audience with fake followers won't serve you well.
Boosting engagement and growing your following takes time and strategy. The 10 tips in our infographic below will help you get the most out of Instagram, building an authentic, engaged audience.
10 tips to boost followers on Instagram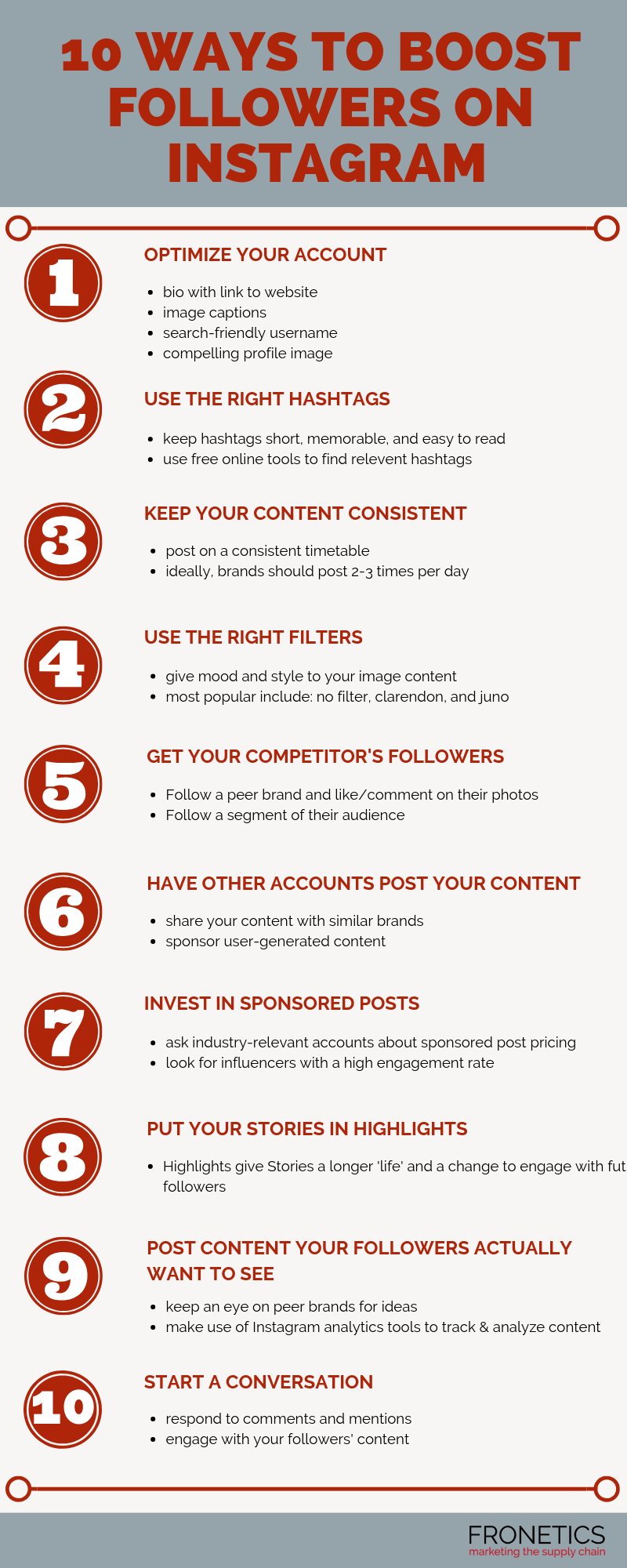 1)      Optimize your account
Before we get to anything fancy, take a step back and make sure your Instagram account is fully optimized. This means you need:
a bio with a link to marketing or product pages related to a specific keyword or hashtag
image captions, which can reference the link in your bio
a search-friendly username
a compelling profile image that reflects your brand
2)      Use the right hashtags
One of the most effective ways to grow your Instagram following is to use hashtags effectively. Since Instagram gives users the ability to follow hashtags that interest them, and they function as links to other relevant content, choosing the right hashtags is the ideal way to reach and engage your target audience.
Keep an eye on accounts of peer brands to stay up to date with the best hashtags to be using. The most effective hashtags are short, memorable, and easy to read. You can also use a free online tool like InconoSquare or Websta to find relevant hashtags for the supply chain and logistics industries.
3)      Keep your content consistent
Posting on a consistent timetable is crucial to maintaining an active following. Posting irregularly means you risk your followers forgetting about you. And posting all at once can annoy and drive followers away. Ideally, brands should post 2-3 times a day. For more, check out our guide to when to post on social media.
4)      Use the right filters
We all know that playing with filters is fun. These lighting and color presets offered by Instagram have the potential to create mood and style in your image content. According to Iconosquare, these 10 filters are currently the most popular on Instagram. And it turns out that the filters you choose really do have an impact on engagement.
Normal (No Filter)
Clarendon
Juno
Lark
Ludwig
Gingham
Valencia
X-Pro II
Lo-fi
Amaro
5)      Get your competitors' followers
Maybe it sounds like a dirty trick, but hear us out! Users who have already shown an interest in similar brands to yours are an ideal audience base. Engaging with them is a great way to grow your own following. Identify a peer brand with a healthy Instagram following; follow a segment of their audience; and like or comment on their photos. Keep track of how many users follow your brand back.
6)      Have other accounts post your content
Operating on the principle that followers of similar accounts to yours are an ideal audience base, getting these accounts to post your content is a great way to boost your followership. One way to do this is to sponsor user-generated content to get your brand in customers' feeds. For example, hold a photo contest related to your brand, encouraging followers to post and caption your content.
7)      Invest in sponsored posts and product reviews
Optimizing your account and following Instagram best practices will go a long way toward getting authentic followers. But to really boost your followers on Instagram, it pays to take advantage of influencer marketing on Instagram. Create a list of large accounts in your industry, follow them, reach out to their marketing team, and ask about sponsored post pricing. Be on the lookout for influencers with a high engagement rate relative to number of followers.
8)      Put your Stories in Highlights
In addition to its Stories feature, Instagram now lets users create a featured group of "Highlights" in various categories on their profile. Stories have only a 24-hour lifespan, so featuring your most effective Stories clips in Highlights gives them a second life and a chance to engage future followers. One of the best features of Stories and Highlights is that they allow brands to view and analyze how users have viewed and interacted with their content.
9)      Post content your followers actually want to see
This one may sound painfully obvious, but it's harder than it looks. Because brands need to publish content consistently to maintain an active Instagram following, it can be extremely difficult to generate fresh, interesting content consistently. There's no easy trick to this one. Keep an eye on peer brands, and make use of Instagram analytics tools to track, analyze, and benchmark Instagram content.
10)  Start a conversation
It's easy to forget that the fundamental benefit of social media is that it's social. Users want to be part of a conversation. Encourage your followers to interact with you on all your social media platforms, including Instagram. This means responding to comments and brand mentions, as well as engaging with your followers' content.
Final thoughts
Instagram is an extremely effective tool for supply chain marketers. These 10 tips to boost followers on Instagram will help you create and nurture a loyal, engaged audience base. In turn, an effective Instagram presence has the potential to grow brand awareness, improve your reputation, and generate qualified leads.
Related posts:
Posts Tagged "infographics"
---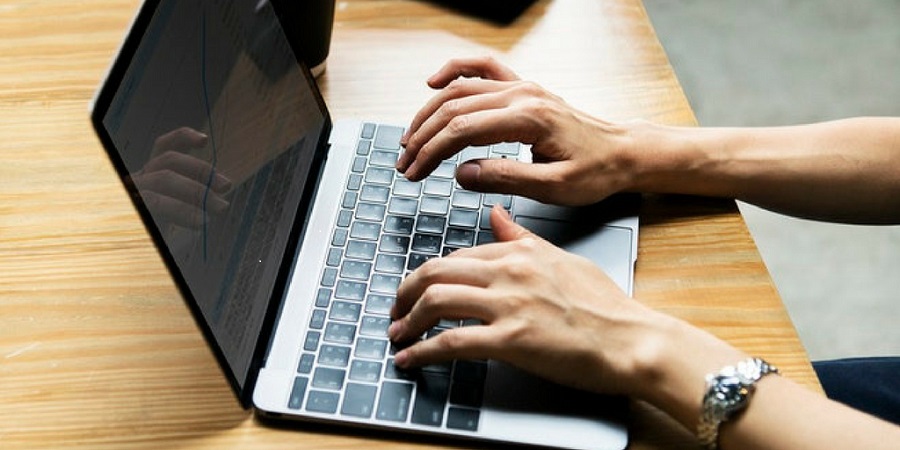 Content creation requires time, money, and creativity. Here are 6 creative ways to repurposing existing content that will ensure you get the maximum value out of your work.
You could say I'm "scrappy." My mom always says that I can stretch a dollar farther than anyone she knows. That also applies to my professional life, particularly when it comes to content creation.
Different people consume content in different ways, so really you're just trying to meet everyone in your audience where they are.
Click To Tweet
We spend a lot of resources to create content, so I want to use it in as many ways as possible. It's not cheating. Different people consume content in different ways, so really you're just trying to meet everyone in your audience where they are. Here are my favorite 6 ways to repurpose content:
1)     Turn a webinar into a video tutorial
Webinars are a great way to enhance your reputation as a thought leader since they offer attendees valuable, exclusive knowledge. The downside of webinars is that by nature, they only happen once at a scheduled time. But the content you create doesn't have to go to waste. By turning your webinar content into a YouTube video you help ensure that your content gets to as many site visitors as possible — and it makes ideal fodder for sharing on your social media channels.
2)     Turn blog posts into guides
If you're posting regular blog content that's tailored to the needs of your audience, chances are you've blogged a lot about a specific topic. Consider consolidating posts within a particular topic into a how-to guide. You may have to update older posts, particularly when it comes to data and specifics, but you don't have to reinvent the wheel. How-to guides lend themselves particularly well to email marketing.
3)     Reframe a key issue
Particularly for think pieces or opinion posts, reframing a topic from a different perspective is an effective way to reuse existing material. For example, a post on how millennials are reshaping the supply chain can be reframed as a set of suggestions for how to attract millennial talent to your company.
4)     Turn internal data into a case study
There's no reason that the data you collect for internal research can't go to work for you in your content marketing efforts. Use your data to create a case study demonstrating how your products or services made a difference for a client.
5)     Turn an interview into an eBook
Have you interviewed an industry expert or one of your executives for a blog post? Interviews are one of the easiest types of content to edit, especially if you conduct them via email. Repackaging an expert interview into an eBook is a snap. Supplement quotes with data and you've got a valuable tool for site visitors to download.
6)     Use statistics to create an infographic
Infographics are one of the most effective was to disseminate content — and prime candidates for re-sharing on social media. In addition to case studies, infographics are a great way to make use of internal data. Present your research in this compelling format and share it on your social media outlets.
Related posts:
Posts Tagged "infographics"
---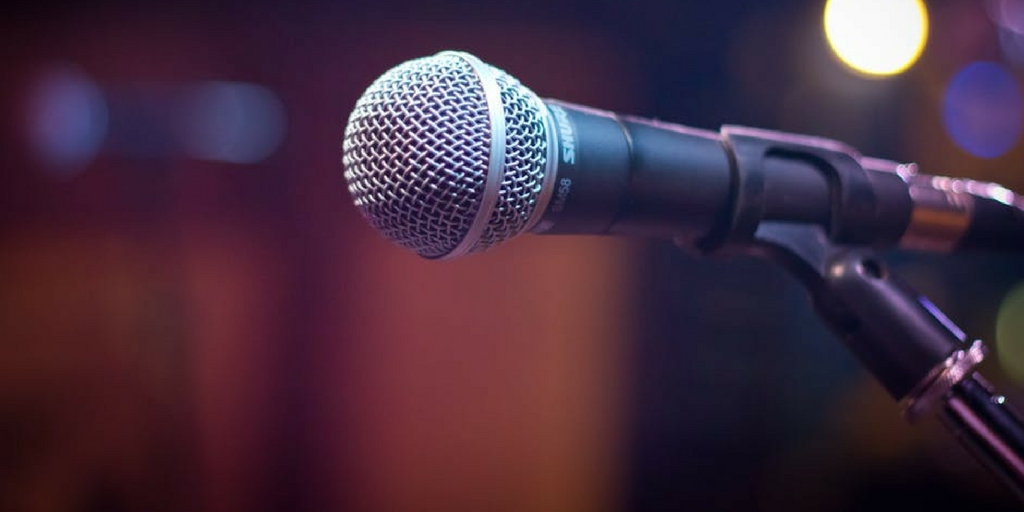 If you're looking to increase your brand awareness, and quickly, here are 10 tricks to accelerate your efforts.
If you took Psychology 101 in school (or even if you didn't), you know that people are more likely to buy from brand names they're familiar with than those they don't know. This goes for purchasing things like medicine, and for procuring components or parts as part of the supply chain.
That's why so many of our clients come to us looking to build brand awareness as one of their main goals. They want to customers to know about them — and sooner rather than later.
Particularly if your business is new, you're trying to change an existing market perception, or you have to make your marketing dollars work fast to meet a boss' deadline, you need to grow brand awareness quickly. We've got some ideas to accelerate your efforts.
10 tricks to grow brand awareness quickly
1) Instagram Stories
Instagram Stories is an on-trend platform that delivers targeted content to B2B buyers and builds brand awareness with potential customers. This feature consists of sequences of content that a user posts over a 24-hour period. Besides photos, Stories can include video and Boomerangs, seconds-long motion clips that play forwards and backwards.
2) Partner with other brands
Creating a promotional partnership with a brand that is ancillary to your role in the supply chain can be a huge boost to your brand awareness, if you choose wisely in your partnership. You benefit from its image and reputation and build collegiality.
3) Start content partnerships
Again, this is all about leveraging other people's audiences to spread the word about your brand. Reach out to the blogs or media sites your target buyers frequent to see if you can author a post for them. Invite them to guest author on your blog. Basically, create two-way content partnerships where you will ensure that your brand's name will come across the screens of target buyers.
4) Make sharing easy
This is a great way to let your successes go to work for you. Make it easy for your audience and followers to share your content with their networks. Give them sharing options for email, social media — heck, put share links on anything and everything. Social media is a powerful tool in building your brand. Don't underuse it.
5) Hold social media contests
Everybody loves to win a contest. Use your social media platforms to create contests in which followers submit a photo or video, and let other users vote for their favorites. Contestants will share the link with their networks, and your brand awareness grows exponentially.
6) Try paid social advertising
Facebook and Twitter ads are relatively cheap, and both platforms do a great job of making sure your content gets to your target audience. You can set metrics and customize your preferences for a targeted audience in a variety of ways. It's one of the most effective ways to grow brand awareness quickly with a very particular audience, though you have to pay to play.
7) Infographics
These are eye-catching and colorful ways to display interesting data and statistics, and are often overlooked for the content powerhouses they are. They're prime candidates to be shared far and wide on social media.
8) Personality
Having a memorable personality for your brand isn't just for B2C companies. While you don't need to hire the Old Spice Guy, letting your content have a voice and perspective is important. Buyers want to know they're dealing with a human being.
9) Podcasts
Starting your own industry podcast, perhaps interviewing your own executives and other industry experts, is a great way to build your brand and simultaneously develop relationships with your supply chain peers.
10) Become a resource
We've said it before and we'll say it again: Your most important asset is your knowledge and expertise, not your products and services. Content marketing is all about being a trusted resource for your audience. Ditch the blatant sales pitch in your content and think about how you can help your target buyers instead.
How do you grow brand awareness quickly?
Related posts:
Posts Tagged "infographics"
---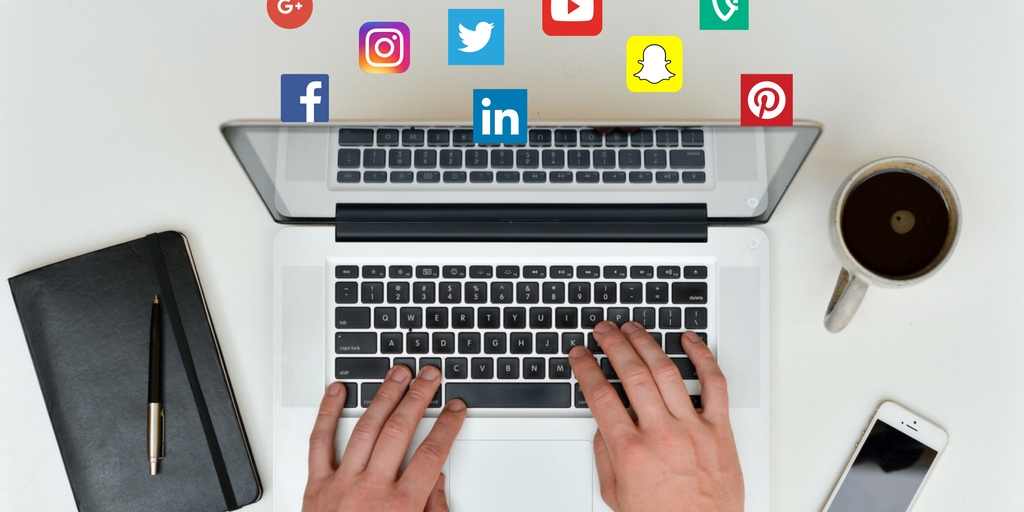 Try these content formats and related tools for B2B social media content that keeps your audience engaged.
Conventional wisdom, careful market research, and common sense are all telling us that social media is transforming the way we do business. We know we should be leveraging these platforms to drive awareness, engagement, and revenue for our businesses. But creating content to share with your audience is actually more difficult than it sounds.
Character limits and the increasingly visual nature of these platforms means marketers are having to get creative with how they engage their audience. Here are four ideas and related tools that can help B2B organizations produce interesting, informative content that is suited to social media.
1) Video
The 2016 Social Media Marketing Industry Report rates the growing prevalence of video among its top findings for the year. It found that 60% of marketers are now using video in their marketing, and 73% are making it a goal to increase their use of video. This trend is for good reason — 64% of business that use video reported that it has led directly to increased sales.
Video is an efficient, visually appealing way to present your content in an imminently shareable format. Here are some online tools to help you create effective video content for your business.
Creating your video is just the first step. Here are some places to upload and share your content:
YouTube: The titan of video sharing services, YouTube allows for public and private upload, and gives users free access to analytics tools for their videos. Along the way, take a look at these valuable tips for getting more views on your YouTube videos.
Vimeo: With a similar platform to YouTube, Vimeo is ideal for video sharing, discovery, and generating creativity.
2) Infographics
Social media platforms are becoming increasingly visual. A well-designed infographic makes your content visually appealing and delivers your message in a clear, easily digestible format. A recent report from eMarketer and the communications firm Lewis found the demands of social media and the format's high engagement rates are key reasons for its use.
Here are some online resources that let you create and share infographics:
3) Podcasts
The 2016 SME Report identifies podcasting as a relatively untapped way for marketers to engage with social media audiences. The audience for podcasts in the United States alone is close to 60 million people, making this medium a significant opportunity for businesses to engage with potential clients.
Here are some tools that can help you create quality audio content:
Audacity: This open-source audio software lets you record audio, convert tapes and records into digital recordings, and add your own audio effects.
Podbean: This tool lets you quickly create and share professional podcasts, no programming knowledge necessary. You can publish them directly to social media platforms.
4) Slides
If you have a lot of dense, industry-specific content that you want to get out to your audience, presentations are ideal. Breaking up your content into slides lets you get the information to your network in an engaging and visually appealing way.
Here are some tools that help you create and share professional presentations:
SlideShare: LinkedIn's platform lets you build, upload, and edit presentations, and share them on social media.
SlideBoom: Ideal for converting PowerPoint presentations to Flash, SlideBoom lets you share your presentations with your target audience.
Prezi: This tool is available for download or as an online editor, and it allows you to add animations to your presentations and share your content on Twitter, Facebook, and LinkedIn.
Social media has changed the way businesses engage with their target customer base. Embracing these tools is key to creating and maintaining an active and loyal audience.
Related posts: